If you're an established reef tank aquarist, you already know the importance of finding and using the best LED lighting for saltwater reef tanks.
If, however, you're new to reef keeping or have never considered LED light fixtures before, you'll want to learn some things before choosing your new setup.
I'd like to take you through a series of things to contemplate, including a reasonably hefty "why LED lighting" section, the ways to choose the right light kit for your saltwater reef tanks.
Plus a series of reviews on the best LED lighting for saltwater reef tanks I've found and a few other things that could help make your reef keeping healthier and happier.
First, a quick rundown of the best LED lighting for saltwater reef tanks as I found them. Next, we'll dive into the whys and wherefores.
Vivofish comparison chart
Image
Product

Weather modes

Easy programming

Easy install

Weather modes

Easy programming

Easy install

VIEW LATEST PRICE

BEST FOR LARGE REEF TANKS

BEST FOR LARGE REEF TANKS

Fantastic for plant growth

Easy to use settings

Easy programming

Fantastic for plant growth

Easy to use settings

Easy programming

VIEW LATEST PRICE

BEST PRE-SETS FOR NATURAL LIGHTING MODES

BEST PRE-SETS FOR NATURAL LIGHTING MODES

Numerous presets

Easy programming

Well-trusted brand

Numerous presets

Easy programming

Well-trusted brand

VIEW LATEST PRICE

Powerful cree lighting

Longevity

Quiet operation

Powerful cree lighting

Longevity

Quiet operation

VIEW LATEST PRICE

BEST GROWTH LIGHT FOR CORALS

BEST GROWTH LIGHT FOR CORALS

Dimmable lighting channels

Easy installation

Easy timers

Dimmable lighting channels

Easy installation

Easy timers

VIEW LATEST PRICE

Great for mixed reef

Amazing shimmer effects

Perfect for nano tanks or spotlighting bigger tanks

Great for mixed reef

Amazing shimmer effects

Perfect for nano tanks or spotlighting bigger tanks

VIEW LATEST PRICE
Why the Best LED Lighting for Reef Tanks is the Way to Go – Benefits
LED lighting has grown in popularity with reef tank keepers over the past decade or so. The reason? LED lighting is getting cheaper and more manageable for the average person to understand and use.
There's no more massive investment (i.e., now it's a few hundred bucks at most, not thousands upon thousands for basic best LED lighting for saltwater reef tanks setups).
And the lights are available all over the web from sites most of us are comfortable shopping on, like Amazon.
The best LED lighting for saltwater reef tanks are also growing in popularity not because they're a fad but because they actually provide some benefits that other lighting rigs don't.
Author note: LED lights benefit both fish and plants in your tank. They pull double-duty, which is a huge thing for the all-around aquarium hobbyist.
Temperatures in Your Reef Tank
The first thing I noted on LED lights for reef tanks is the fact that the light kits are designed specifically to provide the optimum temperatures for your aquariums along with the fantastic lighting conditions.
LED lights aren't major hot spots like other types of bulbs, which means you can control the temperature in your reef tank more easily.
Author Note: You may still need to use an aquarium chiller, but you won't be constantly struggling to figure out precise temperatures like you do with halogen or fluorescent bulbs that some folks might still be using.
Lighting Optimization for Your Reef Tank
Another fantastic thing about LED bulbs is that they usually come with a reef tank setup designed for multi-color options.
These multi-color options provide both internal and external aesthetic appeal and consistent lighting for your fish for a calmer environment.
You can control the spectrum of the lights, which means you can create the perfect color light environment for your (and your fishes') needs.
The internal appeal comes from the solid color blending created by the multi-color LED bulbs. This means fewer visual hot spots and having colors you actually like in the water.
They do still offer the shimmer of other bulbs, but without the weird disco ball effects of halides.
The external visual appeal relates to how the lighting from the tank affects the rest of the room. LED bulbs individually aren't as bright as fluorescent light bulbs or halogens.
The lighting of your reef tank will affect the appearance of the rest of the room.
A living room will automatically be more inviting with the right cooling multi-color LED lights.
An office will pop with just that right spot of red and blue lighting that adds a combined temperature that draws the eye to both the aquarium and the painting above it.
Preset Lighting Schemes Are Extremely Useful
Many of the LED lighting rigs also come with presets for things like dawn, dusk, moonlight, summer, winter, or other seasonal and timing schemes.
If you're able to afford these setups and feel comfortable setting them up, I highly recommend these as the best LED lighting for saltwater reef tanks.
The presets add a world of colorful light for your fish and plants and help make corals, tropical fish, and other critters really pop.
They also give your saltwater tank a more realistic environment for healthier growth and life.
Top Tip: Plus, these presets are a one-and-done sort of thing, meaning you set them and don't have to mess with them unless there's a special occasion or power outage requiring an update.
Skip on Replacing Bulbs All the Time
A huge benefit of LED lighting is that you're not replacing bulbs all the time. Unlike the halogen and fluorescent bulbs, these things don't burn out every several months or year.
LEDs have a much longer lifespan than their less efficient competitor bulb types.
This means less work for you which is always a winner in my books!
LED Lights Are Better for the Environment
There are a number of reasons LED bulbs are better for the environment but one of the main ones is that they use less electrical energy to power up and stay lit.
Also, since they don't require replacing constantly, there's less garbage in the landfills.
And because they're better for the environment, in the long run, they're better for you and your household. They're easier to use, less messy, and don't require regular maintenance. A win-win!
The LED Lighting Spectrum and PAR Output Are Consistent
Metal halide bulbs aren't very consistent over time.
LEDs, however, keep the same spectrum output over time, meaning less adjusting for your lighting setup, and less frequent replacements.
This is better for your fish, plants, corals, and other critters in there, too.
LED Lights are Low Profile for Better Aesthetics Overall
Most LED lighting setups are also low profile, so they're not as obnoxiously obvious in your setup.
Reef tanks and saltwater aquariums already usually have so many pieces of equipment that obvious lighting can take away from the beauty of your tank – which, let's face it – is the main reason you keep a reef tank.
LEDs are Less Expensive in the Long Run
Finally, I'd like to mention that LED light setups tend to be less expensive in the long run, as well.
Since the bulbs only require replacements every five years or so, you save on the bulb costs. LEDs are also more energy efficient, which means you also save on energy costs.
So, though LED saltwater aquarium lighting setups may be more costly in the upfront view – although this is less and less true every day – they save you money over time that more than makes up the difference.
They're also easier to find than other types anymore, which saves you time and hassle in your searching for the best reef led lighting.
The Downsides of even the best LED lighting for saltwater reef tanks
The main downside of LED lighting systems for reef tanks is the fact that they are not as simple to setup as other lighting systems might be.
You have to make all the adjustments and reposition the lights as needed to get them in just the right place with the right color spectrum shining down on your reef buddies.
If you are able to understand the instructions – and most are pretty easy to follow – you'll be fine with LED lights, especially since the initial setup is the only real time and energy investment into the system.
How to Choose the best LED lighting for saltwater reef tanks
As you transition to LED lights or purchase a new system for the first time, you'll want to consider a few key factors in your selection process.
Quality of Manufacture Helps decide the best LED lighting for saltwater reef tanks
If you search Amazon for "best LED aquarium lighting for corals" or "best nano reef lighting" you'll find a lot of options that range in price from $11 to $180+.
That's a pretty wide range, which makes it hard to sort through things like quality.
Some brands are simply more expensive because they have a reputation that allows them to charge more, while others are modest companies that still produce high-quality options.
My best tip for sorting through quality is looking through LED reef lighting reviews written by real-life users. That's how I started!
These are the folks who can tell you if that long-known brand is still making high-quality fixtures.
They haven't farmed out their manufacturing to some cheap factory in China for quick knock-offs – or if that unknown brand is actually spectacular.
I've also considered price and manufacturer quality in my reviews below, so you'll find only high quality, great value options on this page.
The Longevity of the Light Fixtures
Within the topic of longevity, you're looking at a couple of factors still.
Beyond the quality of manufacture, you're looking for reviews and notes from real users on the quality of the active cooling system in the light setup.
They will also talk about the power supply, and the shoddiness – or hopefully quality – of the materials used to create the lighting setup.
As a reviewer, I can only give my own thoughts and opinions based on research and experience with given brands and their specific products.
But as the consumer, you need to read the thoughts provided by other consumers on these aspects.
These thoughts will tell you how long the fixtures actually last, which is why I always recommend looking for the latest reviews on a given product, even when it's praised highly by professionals.
Author Note: You never know when a company has made a change or whipped out a batch of duds.
Software and Ease of Control
Many of the LED reef aquarium lights come with software and programming options that allow you to control the lights.
This includes the light spectrum, timing, light intensity, and other things – depending on the exact model.
If these are things that would make your life easier, look for a system that includes everything you want and need in the lighting system.
Some of the systems also come with remote controls, which I happen to love because, well, sometimes I'm lazy, and a lot of them allow you the option for mimicking the time of day.
Finding a Model that Fits Your Budget
One of the other big things for me when I'm looking for new supplies is the overall cost of a given item.
Top Tip: Try to examine the cost of the light system for your overall long-term costs, not just the up-front price.
The number of bulbs and intensity of the colors you use will affect how long the system will work.
You can calculate your basic needs by the number of hours per day you plan to run the system versus how many light hours a given bulb has. Typically, the lifespan of a single LED bulb is approximately 50,000 hours.
Shop Via Brand, Warranty, and Available Replacement Parts
Finally, I'd like to mention that though a brand's reputation can change over time, generally speaking, well-trusted brands are going to be your best bet in most situations.
Top Tip: Look for a brand that has a great reputation for high-quality materials and manufacturing processes, provides solid warranties to backup their work, and has available parts for sale to make repairs along the way.
Reviews of the Best LED Lights for Saltwater Reef Tanks
To ensure you're getting the right LED saltwater aquarium lighting system for your saltwater reef tank, we recommend doing a side-by-side comparison of the various systems, based on the qualifications we listed above.
We've created what we consider to be a list of the highest quality options available, but only you can judge your exact needs.
How We Chose the Marine Aquarium LED Lights
I started out by taking what I knew about all of the lighting systems I've used personally.
Then, I went the "old fashioned route" of searching for the best reef led lighting via the Google search bar, knowing this would result in loads of sites that provide great results.
This search yielded about twenty quality sites that had a lot of the same light setups in common on their top ten lists.
I dug through these lists to see which ones overlapped, and cut out duplicates, which brought me down to about 45 options.
I hopped onto Amazon to see what real life consumers rated the various lighting systems as and if there were any additional suggestions based on consumer choice alone.
This brought me about fifteen or so options, bringing my list to about 60 choices.
Of course, 60 is way too many for one person to review reasonably, so I cut out any that didn't have "above average" ratings from real-life, non-paid consumers.
From the leftovers, I cut out any that didn't meet my quality standards listed above. This dropped the list to closer to thirty options.
From here, I dug through each of the options to find what could be considered, across the board, the best in various categories.
I then compared them to what I knew first hand, to see if my own experiences were just a one-off, or if I actually knew what I was talking about. 🙂
Below, you have the results of those searches, reviews, and my own personal experience with the best lighting for coral reef aquariums.
The Current USA Orbit Marine Aquarium LED light is a popular model for use in coral and saltwater aquariums.
Why? Because of the broad spectrum of color options that really make your coral pop, working in a loop with the pump and lighting control, making it easier than ever to light and run your aquarium.
The system installs easily, offers a wide range of modes and scheduling choices, and provides your tank with enough light that's bright in coloring that all loops into the pump system for easy maintenance and control.
Lumens/bulbs: LED light hub capable of bright daylight
Setting options: Multiple weather modes, wide spectrum
Watts used: Unspecified
Programmable: Yes
What We Loved
What makes this particular lighting system amazing is the many different lighting settings.
It allows you to mimic sundown in the tank, sunrise, periodic cloud cover, storm modes, lunar light, dusk, bright daylight, slow sunrise, and more for a realistic lighting situation for your saltwater reef.
Use the programmed settings for the natural biorhythmic movements or on-demand dynamic weather effects to change things up.
We also love the eye-popping color effects that provide the reef with amazing shimmer effects and wide ranges in the color spectrums.
A higher ratio of actinic blue lights balances with red and white LEDs for the right color combination in your aquarium. And the lights have wide angle dispersion for evenly spread light over the entire tank.
What We Didn't Love
There are really only two negatives I found consistently mentioned throughout the reviews and in my own experience.
While the settings are amazing, the lights don't really work for deeper tanks.
Overall, the lights are awesome for small and medium-sized tanks, but deep tanks won't receive all the benefits. You'd be better off with a deeper penetrating light system.
Second, the lights are only adjustable via the remote. For those of us who like making quick adjustments anywhere in range, this isn't a big deal. But there are occasions when manual adjustments on the device would be handy.
Our Verdict on the Current USA Orbit Lighting System for Reef Tanks
If you're looking for an ultra-versatile lighting kit that comes with easy mounting instructions, a low profile, and allows you to create natural "weather fronts" for your tank, the Current USA Orbit is your go-to model.
This baby is crazy versatile and fun to use. I just wouldn't necessarily recommend this so much for beginners as you might go a little too crazy with the various settings.
It's important not to disturb your fish, coral, and other live rock, and it might be a little too tempting with the storm fronts and five other weather modes to go crazy here.
I'd recommend experienced reefers use this while beginners hold off a bit until you have a better handle on how lighting for a fish tank really works and how it affects your saltwater critters.
>> Tap Here to Read More Reviews and See Today's Price on Amazon.com <<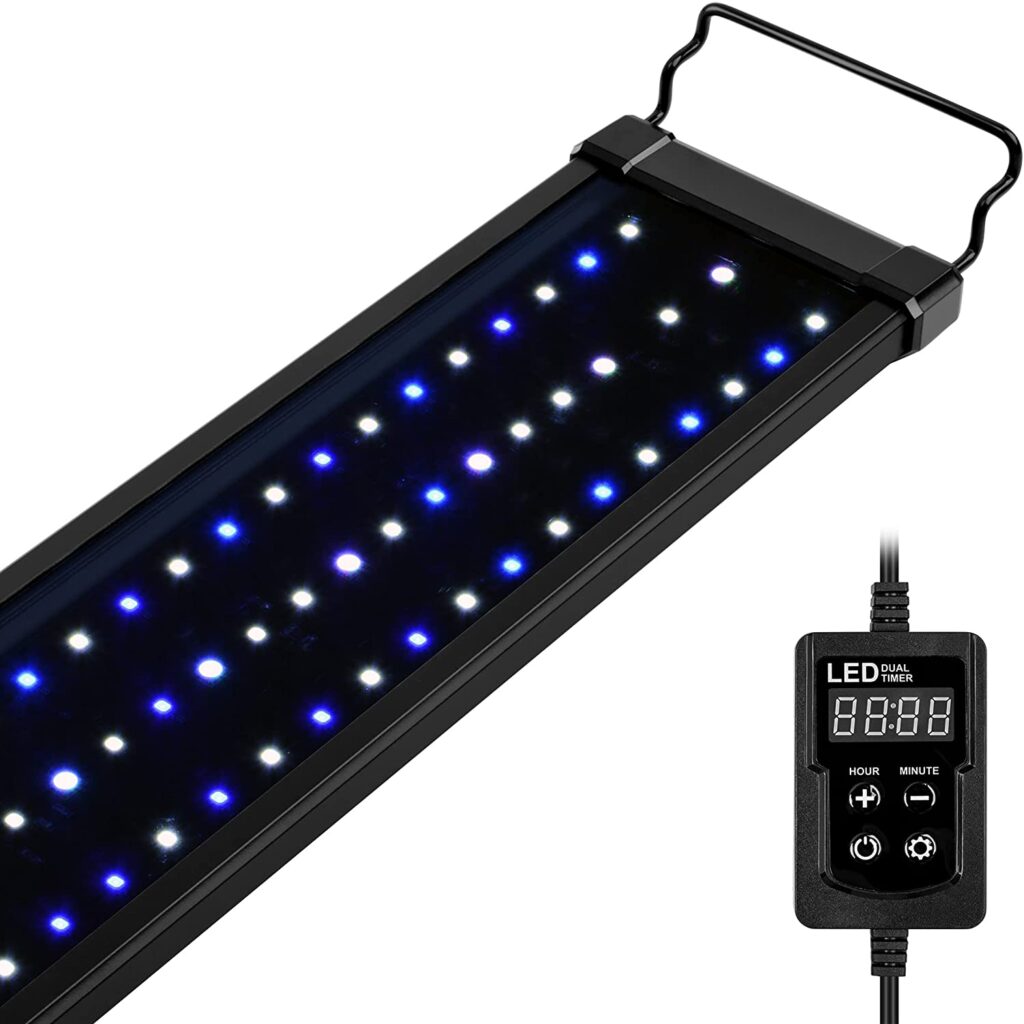 The Nicrew Saltwater Aquarium lighting system for coral and other saltwater tanks is a full spectrum option for reef keepers.
The lights encourage coral growth, healthy fish, and an overall happy aquarium environment.
The kit comes complete with an easy hanging system to make installation super easy, even for beginning reefers.
Adjustable brackets make setup easy and smooth – just follow instructions!
The NiCrew Lighting system combines three light settings, specifically designed to encourage booming aquatic plant growth and healthy coral growth.
The lights provide the necessary, full spectrum needs, but allows you to use three different switches to adjust the luminosity for the ideal setting for your tank.
The settings combine 445 nm blue, white, 460 nm blue, and RGB LED bulbs for the best possible lighting arrangements for your saltwater tank.
Lumens/Bulbs: 192 mini LED bulbs (largest size)
Setting options: 3 settings, compatible with dual-channel timer (included)
Watts used: 48 watts
Programmable: Yes
What We Loved
The LED light system from NiCrew comes with three lighting settings, which are perfect for creating the right kind of lighting environment you need for your reef tank.
The lights use a dual-channel timer (included), allowing you to adjust the lighting intensity for producing the best results for your aquarium.
We love that the system has a full spectrum lighting that mimics natural light for coral and fish, and the built-in-timer settings.
The blue LED lights are great for natural cool lighting that feels genuine.
What We Didn't Love
In my own reviewing, as well as the research conducted, I really couldn't find any major setbacks for the NiCrew system.
It's not perfect – no product truly is – but it's all around a fantastic option for reef tank lighting.
Our verdict on the nicrew saltwater aquarium light
The NiCrew LED lighting system truly is a fabulous product.
The easy, adjustable mountain kit makes it great for beginners.
The beautifully planned light settings produce great plant growth and a healthy environment for your corals and fish.
The dual-channel intensity options makes for a great choice for varied tanks.
>> Tap Here to Read More Reviews and See Today's Price on Amazon.com <<
The things that make the Hygger system one of the best LED lighting for saltwater reef tanks is the numerous setting options available to users of the system.
From using the preset options (default, day, night, etc.) to crafting your own DIY perfection, the lighting system is one of the most advanced available for a reasonable price.
The color system includes the standard red, blue, and green, but also allows for white, purple, and cyan coloring to blend the environmental lighting even more.
It's all programmable and easy to use.
But it's also high-quality manufacturing from a well-trusted brand.
Lumens/bulbs: 817 to 2815, depending on size chosen
Setting options: Numerous daytime, sunrise, sunset, moonlight settings, plus DIY options for crafting your own
Watts used: 14 to 42 watts, depending on size chosen
Programmable: Yes
What We Loved
There are loads of features and reasons to love this lighting system from Hygger.
First off, there are more colors available from this lighting system than most other options out there. Red, green, blue, white, purple, cyan, purple – they all add up for amazing lighting.
There are multiple lighting settings that you can adjust to fit your aquarium's precise needs.
There are also multiple timer settings that can be tweaked to fit your lifestyle and the needs of your setting.
Additionally, there are brightness settings, both presets and customizable for you.
The quality of the manufacture on Hygger products also makes this a loved product here – and a well-trusted one.
What We Didn't Love
The primary issue I saw with these lights is actually tied to user error. Be sure that you're getting the right size for your aquarium size – or multiples, if need be!
If you're not sure what size you need, check out the fish keeping forum to ask questions. They can also help you determine what color, timing, and intensity settings to use for your specific aquarium setup.
Our Verdict on the Hygger Aquarium Lighting System
Overall, this is one of the absolute best LED lighting for saltwater reef tanks. The timers, intensity, and coloration settings are a huge win for most aquarium types.
This one is also easy to set up and use (though you'll probably need to do some research first to get it right).
Ultimately, if you're looking for a one-and-done sort of lighting setup, this is your go-to at a reasonable price.
>> Tap Here to Read More Reviews and See Today's Price on Amazon.com <<
For a high-powered Cree LED light set for your reef tank, look into the Hiparagero LED aquarium lights for saltwater tanks.
They provide you with royal blue, blue, and white lights to help mimic the deep-sea environment while making the visual of your coral pop in the water.
The light settings are designed to enhance the sight of your aquarium while providing healthy, growth-encouraging light for your coral and other biologicals.
The dimmable LED channels with touch control, Cree lights, and incredibly low profile all make this 30-watt LED lighting system for reef tanks an incredible option for your setup.
The various setting options give the professional result we all hope for in our home aquariums.
It's got 90-degree three-in-one acrylic lenses to ensure incredible color uniformity in the lighting and higher light efficiency than much of the competition.
Lumens/Bulbs: 9 Cree LED bulbs
Setting options: 2 dimmable channels
Watts used: 30 watts
Programmable: No
What We Loved
The main positives for these lights are what have been mentioned already, specifically the Cree lights that provide even longer lasting quality.
Also, the beautiful dimming settings that allow you to mimic the deep ocean environment, and the easy setup with the adjustable clamp system for the perfect fit.
Other positives include:
All the materials are high-quality, with high-quality manufacture
Specially designed for nano tanks
Two-rollers silent fans to keep everything cool and comfortable
Quiet operation
Very low-profile for incredible aesthetics
What We Didn't Love
There are two things I don't love about this set of lights.
The first is that though you can dim the lights, there's no programming options like scheduling that would make this system that much easier to use.
The second thing is there's no remote that comes with the system. Again, this isn't a huge deal, but it just doesn't quite provide all the value I might look for in the best saltwater aquarium lighting system.
Our Verdict on the Hiparagero Lighting System
Ultimately, this is one of the best lights for reef tank kits you can get for setting up a new reef tank. The dimmable options, easy setup and high-quality materials make this a true winner.
But since there's no programming available or remote for easy adjusting, it's a good investment but not the absolute best on the market.
>> Tap Here to Read More Reviews and See Today's Price on Amazon.com <<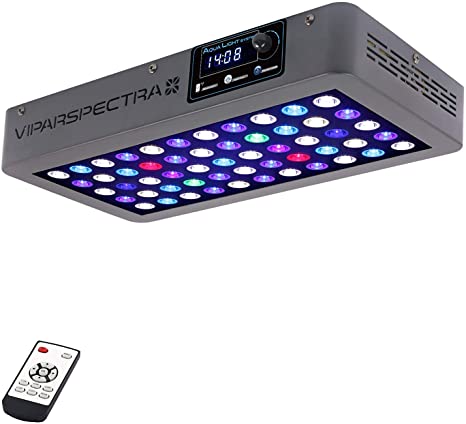 The Viparspectra dimmable LED aquarium coral grow light is specifically designed for coral reef growth.
The light allows you to use the specified application options to optimize that growth even when you're away from home.
One of the things I love most about these lights are that they're designed specifically to help coral grow.
The lights also add that brilliant pop you're looking for to enjoy the stunning coral and brilliantly colored fish swimming around in there.
Lumens/bulbs: Unspecified
Setting options: 2 color channel options, 2 timer settings, remote control for easy adjusting
Watts used: 165/300 watts
Programmable: Yes
What We Loved
One of the things I find most annoying with aquariums is the noise that the various devices produce.
Between the protein skimmers, aquarium chillers, lighting systems, and other devices you may or may not run with, the aquarium setting can get kind of loud.
The Viparspectra light panel doesn't have the noisy fans that other lighting kits have, so this thing is much quieter than other options. For me, that's a huge bonus for my sensitive ears.
Of course, the ability to use your phone to connect and control the light panel is a huge pro as well.
You can change "time of day," re-schedule lighting timers, and more from your phone, even if you're in another country.
If you travel a lot or just get home late, this is a super handy feature. And, conveniently, you can use the same single app to manage multiple devices, if you've got a few aquariums running.
What We Didn't Love
The main negative I've found is that this is a newer system (which isn't necessarily bad!).
It's a lesser known company and fewer pros and real-life users have invested in the light system, meaning other than personal tests, it's hard to know how long and how well it will hold up in real life.
However, based on the positive reviews and the requirements I put on lighting, especially with the unique features and design of the light, I'm still happy to recommend the light for anyone specifically looking to grow their coral.
Our Verdict on the Viparspectra Dimmable LED Aquarium Coral Grow Light
Ultimately, the Viparspectra Dimmable LED Aquarium Coral Grow Light system is a great choice for anyone who's particularly focusing on the growth of their coral.
Between the convenient light settings that transition through natural sequences and the emphasis put on helping coral absorb calcium for healthy growth, this light setup is a great option.
The system is easy to set up, powers through a wide range of colors on the light spectrum and has multiple certifications.
If you want to grow healthy coral, this is a great light with which to do that.
>> Tap Here to Read More Reviews and See Today's Price on Amazon.com <<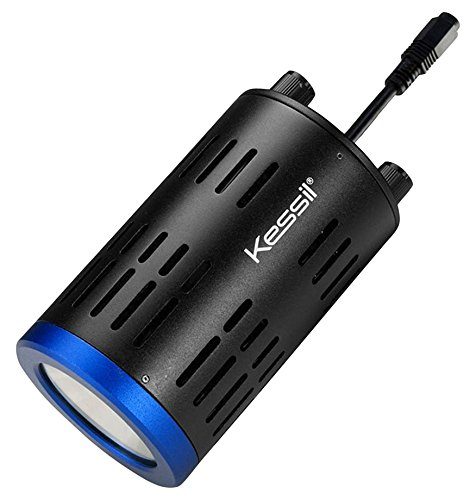 We wanted to toss in a runner up suggestion for nano reef tanks. 
The Kessil LED controllable lighting system has a powerful light that does well with nano aquariums in particular.
The focused, strong light provides your aquarium with 160 watts and a wide spectrum of light, making it one of the best LED lighting for saltwater reef tanks, especially nano tanks.
Additionally, the shimmer light is one of the only LEDs capable of creating the shimmer that rivals MH.
The unique light will transform your saltwater aquarium from a dull every day fish tank to something spectacular, when used right.
I highly recommend using the light in smaller or nano saltwater aquariums or in partnership with another partial lighting system for the larger reef tanks.
The light features Kessil's new proprietary Kessil logic, and external controllability. This controllability also enhances manual control.
The shimmer light also uses the unique spectrum Kessil LED chips which are manufactured in-house with specific customized spectrums for saltwater aquariums in mind.
The light reaches a depth of at least 26 inches, though that light would be low at the bottom (as would be expected).
Be careful where you place your corals if using this light, to ensure they receive the necessary lighting if your tank is more than 28 inches deep.
The side to side coverage on this is also about 24 inches around and works well for soft corals and fish.
For mixed reef, expect that coverage to drop to about 18 to 20 inches, according to users and experts.
>> Tap Here to Read More Reviews and See Today's Price on Amazon.com <<
Finding Your best LED lighting for saltwater reef tanks Isn't Hard to Do
Whether you are brand new to tropical fish keeping or an old pro, the various best LED lighting for saltwater reef tanks, for nano tanks, best lighting for corals, and other lights reviewed should help you find exactly what you're looking for.
If you want a Wi-Fi enabled system, an easy to install, great for beginner system, ultra-realistic setting, or pretty much any other specific lighting setup, you're likely to find them among those I've recommended above.
If you do have questions on anything, be sure to find a reliable forum for fish keepers where you can ask specifics.
These folks have all of the up-to-date info on recalls, fakes to look out for, et cetera, and aren't afraid to give guidance on confusing manuals that sometimes bog newbies down.