Aquariums are a unique point of attention in the household or office place. The visual beauty of sparkling scales on an electric blue harp and the brilliant corals you've collected draw the eye to them no matter who's around.
But in order to look good, you need a healthy aquarium.
That means feeding your fish appropriately, using the right salt mix in your reef tank, and having enough light for your live plants to grow and flourish.
Top tip: But equally important are the less visible things that keep your aquatic life healthy. Things like water current, aeration, and the right pH balance all make the difference between a struggling and thriving aquarium.
And all of those mean having the right equipment to keep things in balance and motion as they should be…which brings us to the best aquarium powerhead.
Best Aquarium Powerhead Quick-Find Table
Image
Product

Works in any aquarium type

Powerful magnetic suction for precision placement

Powerful enough for most aquariums but not overwhelming for smaller tanks

Works in any aquarium type

Powerful magnetic suction for precision placement

Powerful enough for most aquariums but not overwhelming for smaller tanks

VIEW LATEST PRICE

Won't corrode, even over several years

Powers water through for large aquariums better than anything else

More budget-friendly than many brands

Won't corrode, even over several years

Powers water through for large aquariums better than anything else

More budget-friendly than many brands

VIEW LATEST PRICE

Great versatility

Easy mounting

Simulates natural ocean currents

Great versatility

Easy mounting

Simulates natural ocean currents

VIEW LATEST PRICE

Dual-head for multi-directional flow

Easy to mount and use

Does a great job at helping keep water clean and healthy for your fish and plants

Dual-head for multi-directional flow

Easy to mount and use

Does a great job at helping keep water clean and healthy for your fish and plants

VIEW LATEST PRICE
What is an aquarium Powerhead, and What is it Used For?
An aquarium powerhead is a small device that looks a bit like an internal aquarium filter.
It's used to create water flow – like creating a current – inside the aquarium.
A single powerhead can be used at the end of a freshwater aquarium to simulate a river current.
Multiple powerheads could be positioned throughout the fish tank to create a more turbulent flow.
This water flow is what creates circulation and is vital for proper biological filtration in most saltwater tanks and many freshwater aquariums, depending on the type of live plants and fish are living there.
Do You Need An aquarium Powerhead?
As mentioned, there may be some cases where an aquarium powerhead isn't necessary, but for most tanks, a powerhead would improve health and morale for the whole tank.
Fish and aquatic plants naturally live in an environment that is full of swirling currents. Some of these currents are steady and single-directional – usually rivers – but others have more movement due to weather conditions and wind.
Aquarium powerheads also help to increase water temperature in wintertime and cooler months.
Author note: The ambient room temperature is usually fixed, which means the water in the aquarium will likely also remain fixed – and often at a lower level than your fish require, even with the heater.
Adding proper water circulation can help raise the temperatures.
The heaters will gain better access to the water because the stronger water flow moves the water in and out of the heater better than a standard filter pump could possibly do.
Providing currents in your fish tank can not only circulate the water to prevent stagnation, but it can also provide your fish with some healthy exercise.
Free-swimmers need lots of movement to stay healthy.
And, let's face it, fish tanks aren't exactly known for providing huge amounts of space for moving around in – even when they're the proper size aquarium for the given types of fish you keep.
Technically, you may not need an aquarium powerhead, but your tank will do much better with having one installed. The right one, however, is necessary, to create enough current, but not too much.
Types of Aquarium Powerhead
There are three basic types of powerheads you'll most commonly find available.
#1. Jet Stream aquarium Powerhead
This style of powerhead is the classic choice for aquariums. They create a single stream of water with a strong current.
They tend to be more versatile than other styles and usually cost less.
#2. Propeller aquarium Powerhead
Propeller powerheads use propellers to generate power for water movement.
They're the most common style of powerhead used currently as they're energy efficient and capable of moving large volumes of water with just low velocity behind the movement.
Top tip: This powerhead type creates the most natural water flow similar to oceanic reef movement.
#3. Crossflow aquarium Powerhead
This newer style powerhead is becoming more and more popular.
Instead of creating a single stream like a jet stream or using a propeller to push water, the crossflow powerhead creates multiple streams and patterns.
Author note: Each powerhead produces a unique pattern and helps to move debris naturally throughout a tank with various fluctuations rather than a single stream.
How to Choose the aquarium powerhead
There are three primary things to consider as your shop for your new aquarium powerhead.
Does it Fit Your Budget?
The first thing is does this model fit your budget?
Be sure to shop around a bit if your first choice isn't within your price range (we give a range of options below).
Author note: Or, if getting the right one is the most important factor, choose a different part of your aquarium to go with a lower budget item instead.
Does it Have the Right Power?
Next, you need to understand if the tank has enough power to pump water for the gallon tank size you have.
Too much power can be disruptive to your aquatic life, and too little doesn't help much.
You can determine this by using the general rule of thumb: 10x the size of the tank.
Does it Work in Your Type of Tank?
Finally, the versatility issue.
If you have a saltwater tank, reef tank, or freshwater aquarium, you have different needs. Be sure the powerhead is suited for your kind of tank.
Reviews of the Best Aquarium Powerhead options
The overall best aquarium powerhead is the Hydor Koralia Evolution Aquarium Circulation Pump.
Hands-down.
This phenomenal powerhead is new and improved from previous similar models.
It features an improved mounting situation that absorbs vibrations and uses magnetic suction for easy, free positioning wherever you need it in the fish tank.
One nice thing about this powerhead is that it's safe to use with wave-timers as well.
So, if you're creating a reef tank, you've got the right equipment right here. The Koralia Evolution provides high flow rates as well, while consuming less energy.
Powerhead type: Crossflow
GPH: 500-1500, depending on model
Type of tank: Freshwater, saltwater, & reef
What We Loved
The Hydor powerhead is a powerful powerhead that comes in four different sizes to suit the needs of your particular tank.
We love that's such a versatile model and practically everyone can use this model in their setup. Just be sure to get the one that fits your aquarium size best.
This model is also reasonably priced, which also means most people can use it. We love affordable, high-quality equipment that's easily accessible and easy to set up. This wins in all cases.
The fact that it's set up to work with wave-timers and wavemakers is another great thing about the Hydor that we love.
Not all tanks need them, but for realistic reef settings, wave-timers, wavemakers, and high-quality powerheads are a must in conjunction with each other.
This circulation water pump is also really compact, which means it does the trick without taking up a huge chunk of your aquarium space.
The point of aquariums is for admiration and calming, not looking at gear – so this is a big deal on the aesthetics.
Plus, this powerhead is extremely energy efficient, which means you also don't blow loads on keeping it running.
What We Didn't Love
The only "negative" I found with the Hydor Koralia Evolution is that since the model comes in various sizes, not everyone gets the right one.
Just be sure to check charts and verify the strength you need in a powerhead before purchasing.
Not bad for a "negative", right?!
Our Verdict on the Hydor Koralia Evolution Aquarium Circulation Pump
Overall, the Hydor Koralia Evolution Powerhead is just flat-out the best on the market.
It provides you with varying water flow, comes in model sizes for practically any aquarium, works in freshwater, reed, and saltwater tanks, and is generally affordable for most folks.
Plus, it's compact and mostly quiet, meaning it works great in more subtle settings.
>> Tap Here to Read More Reviews and See Today's Price on Amazon.com <<
Rio powerheads are long-lasting monsters that get the job done in large aquariums better than just about any other powerhead.
The Rio Plus 2500 HP Aqua Pump is no exception. In fact, many people I talked to who have this model said this guy is the favorite choice for both cost and dependability for longevity in indoor and outdoor settings.
The hardy machines can handle just about anything you throw at them, which makes them not only a great powerhead for use indoors in your aquarium but in outdoor settings like ponds and fish barrels.
They're praised over and over for longevity as a brand and the Rio Plus 2500 specifically for being able to handle issues like sucking up snails by accident and still pushing through as if nothing happened.
Powerhead type: Propeller
GPH: Maximum of 782
Type of tank: Saltwater, freshwater, & reef tank
What We Loved
The Rio Plus 2500 is an improvement on former models, such as the 500, and has an even higher efficiency power use rating.
This sucker is strong enough to power through up to 782 gallons per hour and keeps working 24/7, even in less than ideal circumstances.
The Rio Plus 2500 is super quiet and runs smoothly in any aquarium environment – even outdoor setups like fish barrels and ponds.
This device is also extremely affordable up-front and long-term since it's such a war horse and will go on for ages.
It's a versatile pump working in saltwater, freshwater, ponds, barrels, reef tanks, and more, and is a cool operator so you don't have to worry about overheating the tank or anything catching fire.
The materials are high-quality ceramic shaft and bearings, with a magnetic rotor for safely submersing fully without fear of corrosion or leakage.
What We Didn't Love
I personally couldn't find any issues with this powerhead, but a few complaints I heard from others looked like they were either shipped from a bad batch or that a knock-off seller had been shipping out products under this name.
My best advice is to be sure to verify you're purchasing anything on Amazon from an authorized seller to avoid these issues.
Our Verdict on the Rio Plus 2500 HP Aqua Pump
This is the most powerful powerhead available and capable of running tanks as large as 500 gallons or more.
It's great for indoor and outdoor use, saltwater and freshwater, or even reef tanks.
It is a propeller powerhead, so it's going to produce a single solid stream or current in your aquarium, though.
So if you need multiple directions and don't need something as heavy-duty as this, you may want to choose one of the other options that uses crossflow technology instead.
>> Tap Here to Read More Reviews and See Today's Price on Amazon.com <<
From a well-trusted brand comes the Fluval powerhead Sea Circulation series – or C1, C2, C3, or C4 – for your saltwater aquarium.
The powerhead has been designed to help create natural reef currents like your fish would get in the ocean.
If you're keeping a saltwater tank, you'll love this Fluval powerhead for a number of reasons – like we do – especially the compact size, power efficiency, easy maintenance, and pre-set design ready for use with a timer.
Powerhead type: Crossflow
GPH: Up to 740, depending on model
Type of tank: Saltwater, freshwater
What We Loved
Of course, the first big positive of the Fluval powerhead is that is simulates natural sea currents that help your saltwater fish and live plants thrive.
The powerhead also comes with a secure and flexible mounting system that makes it easy for anyone to affix to their aquarium.
The flow direction on the powerhead is easily adjusted to suit your fish and plant life needs.
It's quiet for the most part, small, energy efficient, and easy to keep clean and maintained for a positive experience all around.
Plus, it's super budget-friendly, which we always love around here.
What We Didn't Love
The majority of complaints I've seen against this one are inconsistent with each other.
Some folks clearly purchased the wrong size model for their aquariums, while others got a dud.
However, the only semi-consistent issue I've seen or experienced is that though it's often quiet-running, sometimes it has weird moments when it gets a little noisy.
Generally, this seems due to positioning, but some folks have said repositioning didn't reduce the noise as much as they would have liked.
Our Verdict on the Fluval Powerhead Sea Circulation Series
The Fluval Powerhead for Sea Circulation is a solid, simple, budget-friendly powerhead that just about anybody can use in their saltwater aquarium.
It's designed specifically to re-create seemingly natural ocean currents and help aerate water as it does so.
It's compact and unobtrusive, so generally unnoticeable, though some folks have had issues with a little noise.
Overall, it's a solid, saltwater aquarium powerhead and definitely worth the limited investment to improve the health of your fish tank.
>> Tap Here to Read More Reviews and See Today's Price on Amazon.com <<
One of the most trusted brand names in aquarium equipment anywhere is Hygger. Their submersible pump Aquarium Powerhead and Wavemaker combo helps to tell us why.
It's super high-quality with great functions and features and a dual-head for ultra-powered flow and directionality.
The Hygger Wavemaker and powerhead is a great two-in-one option for your freshwater aquarium.
It improves the water flow with a natural current feel and helps to keep the water clean.
And with the dual-head the fans propel the water in broader direction, creating more natural movement with multi-directional flow. This is much more natural than a lot of similar options on the market provide.
Powerhead type: Crossflow
GPH: 2100 or 3200
Type of tank: Freshwater, saltwater
What We Loved
We love that the dual-heads have 360-degree rotation to get just the right angle and direction going for your current in the aquarium.
We also love how easy to install this option is and how easy it is to take out for maintenance and cleaning.
This is fully submersible and oil-free, meaning your fish and plants are healthy and safe.
What We Didn't Love
The main issue I've got with this is the suction cup. Unlike other brands using magnetic suction cups, this uses a standard style and it's not that great.
I recommend trying to find a better way of affixing it to the tank, as the suction will start to slip anywhere from a couple of weeks to several months into using it. Readjusting every few days is a hassle.
Our Verdict on the Hygger Submersible Aquarium Powerhead and Wavemaker
Generally speaking, this is a solid choice for a wavemaker and powerhead in one.
The system keeps water flowing, the dual-heads positioned in opposite directions increase the water flow and create a natural current that your fish and plants will love, and the whole thing is easy to install, clean, and maintain.
The one issue is the suction cup.
Some folks say it gives out after a couple of weeks, while others say it takes months or even years.
I'm not sure of the best solution for fixing the problem, but since having to reposition it every few days once the suction does stop holding as well is such a hassle, it's a bit lower on my list than options for that reason.
>> Tap Here to Read More Reviews and See Today's Price on Amazon.com <<
Runners-Up Worth Mentioning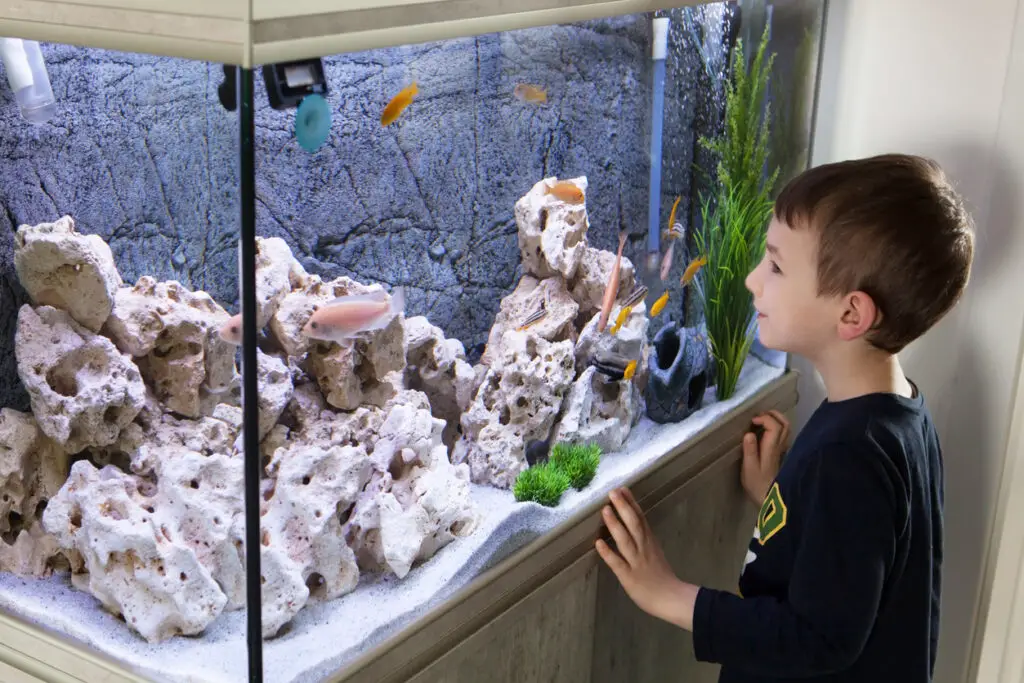 A few other powerheads stood out in my research as I dug around. Though they didn't make the top-of-the-top list, these are still some of the best aquarium powerheads around.
The Tunze USA Nano Stream Propeller Pump has unique features, including an electronic speed control that could come in handy for specific aquarium needs.
The Aquaneat 2-piece powerhead set is a simple, easy, and budget-friendly option for folks looking for power on a budget.
And the Marineland Maxi-Jet Pro Pump, 3-pumps-in-1 option is another highly recommended choice that might work in your unique fish tank setting.
Aquarium Powerhead FAQs
Do you leave the aquarium powerhead on all the time?
Yes. You should leave your aquarium powerhead on all the time. The reason? It helps keep the oxygen levels and water flow going.
The whole reason you use a powerhead is to improve the environment of your fish tank, so turning off the powerhead would defeat the purpose of its installation.
Where should I install my aquarium powerhead for the best results?
The best placement for your aquarium powerhead(s) is going to be either in the upper or the middle section of your aquarium.
This placement allows the water flow to hit the most points throughout the aquarium.
Avoid putting the powerheads lower in the aquarium, as well, because it will blow around your substrate!
You should also avoid mounting the powerhead too close to the water's surface because it will turn from a powerhead into a wave maker which is definitely not the goal with these!
How long do aquarium powerheads typically last?
The lifespan of a powerhead will always depend on the quality of the model and the quality of care and maintenance you provide your aquarium.
Low budget aquarium powerheads will usually last up to 2 years – so if you're on a budget and need one now, you're still doing all right while you save up for a higher quality piece later on.
For mid-range quality powerheads, they'll likely last between 3 and 5 years.
High-end powerheads will last upward of 10 years in most cases.