When you look into the beautiful water of your aquarium and expect to see happy, healthy fish darting between the coral outcroppings.
But instead you see uneaten food, fish waste, and a few other unpleasant things, you know it's way past time for a good clean gravel sweep up.
And that's why you're here.
You're looking for the best aquarium gravel cleaners with the right fish tank cleaner tube set up for your needs.
Whether you're familiar with the well-known Fluval gravel vac, Aqueon vacuums, or any of the other siphon and gravel cleaner brands, you can't be sure you're getting the right one until you do some research.
That's exactly what we've created this round-up for.
But before we dig into the vacuum gravel cleaners, let's take a look at some of the "must know" stuff that will help you find the right option for your tank.
Best Aquarium Vacuum Quick-Find Table
Image
Product

Silent and unobtrusive

Easy to use

Complete, mess-free cleaning system for your aquarium

Silent and unobtrusive

Easy to use

Complete, mess-free cleaning system for your aquarium

VIEW LATEST PRICE

Super quick at cleaning

Works automatically – on its own

Battery operated and works anywhere

Super quick at cleaning

Works automatically – on its own

Battery operated and works anywhere

VIEW LATEST PRICE

Super-efficient, quiet cleaning

BPA free

Comes with two nozzles – one for cleaning, one for draining fouled water

Super-efficient, quiet cleaning

BPA free

Comes with two nozzles – one for cleaning, one for draining fouled water

VIEW LATEST PRICE

Anti-Back Flow Valve Design

Compact design

Extra long tubing

Anti-Back Flow Valve Design

Compact design

Extra long tubing

VIEW LATEST PRICE

Bucket-free cleaning

Ready to use kit

Fits most faucets

Bucket-free cleaning

Ready to use kit

Fits most faucets

VIEW LATEST PRICE

Incredibly budget-friendly

Very lightweight and easy to use

Comes with an 18-month warranty

Incredibly budget-friendly

Very lightweight and easy to use

Comes with an 18-month warranty

VIEW LATEST PRICE
How Often Do You Need to use your aquarium vacuum?
There's no set rule to how often you need to clean your tank, so it's a little hard to answer this question.
Smaller tanks will, of course, need more frequent cleaning because there's less space for extra food or fish waste to tuck away.
Author note: Large tanks, however, may have other issues with appearing to be clean for the opposite reason of waste being less visible to the naked eye.
So, let's instead look through the typical time periods folks might be tempted to clean, and see how you can decide for yourself.
Daily Cleanings with your aquarium vacuum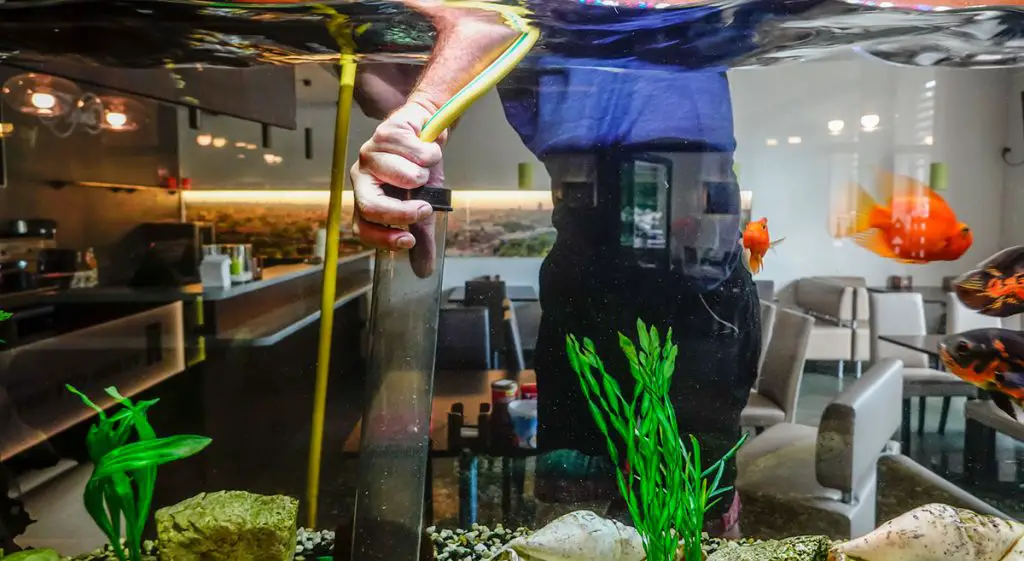 It's not usually necessary to clean your aquarium on a daily basis.
Depending on your particular situation, though, you may discover you have some little betta who makes a bigger mess than the guy in the other tank, though.
So keep a close eye on each aquarium fish until you understand their basic habits and needs.
Weekly Cleanings with your aquarium vacuum
Well-established aquariums may be suited to having water top ups every other week, or even as little as once a month.
But, generally speaking, most aquariums should have their water chemistry tested once every week or two, and cleaned/adjusted accordingly.
You'll want to remove about one-fourth of the water and replace it with treated water using a fish tank vacuum pump. Clean the gravel and use a sponge or scraper to remove any excess algae from the decorations in the tank.
Monthly Cleanings with your aquarium vacuum
As mentioned, some larger, established aquariums may be able to go for a month without a change of water. Be sure to test the water for nitrates, pH levels, and ammonia levels to make sure it's often enough, though.
If the levels start to shift, be sure to test the water for these levels more often. Ill, stressed, or otherwise unhealthy fish may also indicate issues with the water, especially if it's suddenly cloudy or oddly colored.
Top tip: Make sure you clean out the filter cartridges or media about once a month and check air stones for algae build-up.
Semi-Annual Cleanings
Twice a year, it's important to turn off and unplug your aquarium equipment for a thorough inspection and cleaning.
Pumps, filters, hoods, light fixtures, bubblers, bulbs, and decorations should all be checked for damage, build-up, or anything else off-kilter, to help keep your fish safe and healthy.
Deep Cleanings
Deep cleaning is when everything in the aquarium – including the fish – is removed and scrubbed down completely.
This cleaning can be extremely stressful for your fish, so you really want to make sure you do this carefully.
What aquarium vacuum types are There?
There are three basic types of aquarium vacuum cleaners.
Siphon Gravel Vacuum
A siphon gravel vacuum uses gravity to siphon water in and out of your aquarium.
These do not require electricity, but rather use gravity to suction the water in and out of your aquarium.
Author note: Typically, these will drain the dirty water into a bucket. These can be messy, but many now come with clamps that remove a lot of the hassle from the process.
Electric Gravel Vacuum
An electric aquarium vacuum may come in either a plugin variety or a battery powered fish tank vacuum.
Most are going to be battery operated for safety anymore, but there are still some models – particularly commercial models – that plug into the wall.
Faucet-Powered Aquarium Gravel Cleaner
The third primary option in aquarium vacuum pumps is the type that attaches to your faucet and lets flowing water create the vacuum and flow necessary for cleaning and filtering the water in your aquarium.
Most of these look very similar to the siphon models, so if you're aiming for this type, be sure to read the reviews and information thoroughly to find what you're looking for.
What To Look For Before Buying an aquarium vacuum
There are a few key things we looked for when reviewing the best aquarium vacuum cleaner options on the market.
Does It Have a Gravel Guard?
One of the key things in our search was whether or not the models have gravel guards.
While not all of our tanks have gravel – some of us prefer sand – most of us do have small fish that we don't particularly want to get sucked up into the fish tank gravel vacuum as we seek a clean aquarium.
A gravel guard helps prevent this.
What Size Tank Does It Work For?
Most of the aquarium gravel cleaners we looked at don't indicate the gallon tank size of the aquariums they're best suited for.
However, most of the time, you can assess this by the lengths of the refill tubes – outlet tubes.
Some did indicate, so we included those – along with any we knew from personal experience – in the information.
Does the Gravel Cleaner Have Some Kind of Flow Controller?
Another important question we asked as we reviewed was whether or not the pump and cleaners had any kind of water flow controller.
It's easy to let water gush in or out too quickly without one.
Does the Aquarium Gravel Cleaner Also Easily Refill the Tank?
Finally, we wanted to know if the fink tank vacuums we were looking at would also help us refill the tanks easily.
Author note: Many of the siphons do promise that they refill, but when you read reviews from real-life users, they don't always meet that promise squarely.
Reviews of the Best Aquarium Vacuum cleaners and Siphons
The most best and most popular brand is the Python No Spill Clean and Fill Aquarium Maintenance System.
The system works quietly and efficiently without disturbing your fish while you clean the gravel and working through water for cleaning.
If you want a no spill, no fuss cleaning system for your substrate and aquarium, the Python No Spill system is your go-to.
You just attach the system to your faucet – it works with almost any faucet – and you never have to use a bucket or siphon with this kit.
The tubing is 25-feet long, so as long as your aquarium is within range, you won't have to tear down the aquarium – you just use the system to clean and maintain your tank while the fish stay in their home.
Here's the breakdown:
Type: Faucet
Length of tubing: 25-feet
Compatible with: Any size tank, any basic substrate
The Python gravel vacuum system is complete and ready to go out of the package.
Just read the manual and follow the step-by-step the first few times you use the system to make sure you attach it properly to your faucet and do the cleaning properly.
This allows you to do smaller, more frequent water changes that help keep the aquarium clean and fresh for your fish friends.
The system drains out the old, unwanted water while refilled the tank with fresh, clean water easily and quickly, all without disturbing your aquatic pals.
The kit includes a 25-foot hose, a 10-inch gravel tube, switch, hose connectors, faucet pump, and brass faucet adapter to ensure the kit works with just about any faucet.
You can purchase a separate extended length gravel tube as well to add some extra reach.
>> Tap Here to Read More Reviews and See Today's Price on Amazon.com <<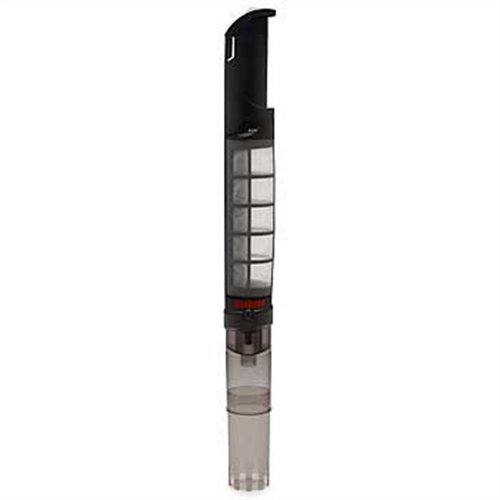 While the name of this product is quite the mouthful, the title fits.
The Eheim Quick Vac Pro Automatic Gravel Cleaner and Sludge Extractor does everything the name says and does so quickly.
So, if you're in a hurry, you're probably looking for this model of aquarium vacuum for the easiest job.
This model from Eheim is a great option for anyone who wants to click a button and let the machine do the work.
It works for full, deep cleans for your aquarium or quick touchup cleaning for your weekly maintenance or emergency issues.
Here's the breakdown:
Type: Battery operated, non-siphon
Length of tubing: No tubing required
Compatible with: Chunky gravel
Other: Fully submersible up to 3-feet
The Eheim is an automatic aquarium gravel cleaner. You flick the switch to on and let the cleaner do its thing with a super fine mesh cartridge designed to trap the tiniest of waste particles to get that aquarium clean in a short time.
The cleaner requires no buckets or hoses but uses the mesh trap to catch the grime while sucking the water in and pushing clean water back out into the aquarium.
Flick the switch on, and place the gravel cleaner into your aquarium, placing its suction end into the gravel.
The cloudy water clears up, sludge is gone, dirt is removed and stored in the trap, which easily cleans up in the sink once the aquarium is clean.
The system uses 4 AA batteries – included. These batteries will power this aquarium cleaner for up to four hours straight.
Word of caution: This system is not suitable for fine sand or gravel.
>> Tap Here to Read More Reviews and See Today's Price on Amazon.com <<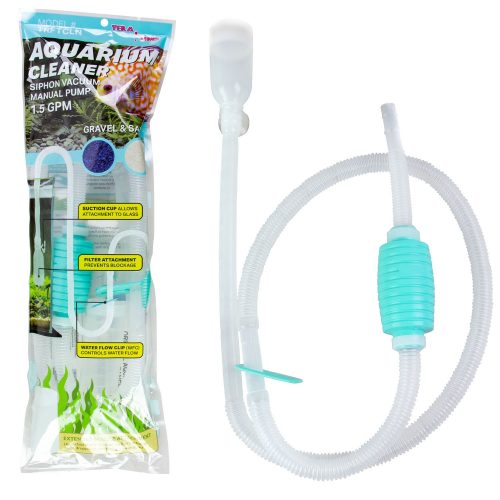 Another one of the best options, and most popular in terms of number of units sold, is the Tera Pump. This model is so good that it's a popular brand for knockoffs around the world.
The two nozzles that come with the Tera Pump are used for either draining the aquarium – the shorter nozzle – or for cleaning up leftover fish food, droppings, cleaning fine gravel, et cetera.
This longer hose can be used for pulling out waste, while the shorter one helps you replace water, all without hurting or disturbing your fish.
The patented pump allows dirt and unwanted sand to discharge along with the fouled water.
Here's the breakdown:
Type: Siphon
Compatible with: Standard gravel, sand, and most other types of substrate in any size tank
Other: Comes with a handy water flow controller for easier, safer use
The 2019 model update adds a nice touch to this already great gravel cleaner and water siphon. The system now allows you to clip the discharge hose onto the filling container.
This means you get a hands-free experience with less mess and less work all around.
Be sure to keep the hose crimp-free and ensure that the majority of the suction portion of the system is above the tank, rather than below the water line, to prevent kinking and slowing or loss of suction power.
Try pumping it a few times after the water starts flowing to keep it flowing.
Note: You may or may not see several warnings on some of their sales pages.
Apparently, there are a lot of rip-offs of this particular model, so be sure you're purchasing a genuine Tera Pump instead of one of the cheap knockoffs.
The fakes aren't nearly as high-quality and many of the complaints from customers about "shoddy work" is related to purchasing counterfeits from unofficial merchandisers of Tera Pump.  
Some of the noted fakes come from Terapump Direct, Tekzz, Marketing Allegiance LLC, Kingiht's Necessities, and Kabble.
The authentic products will always have the model number and brand, not plain generic packaging.
>> Tap Here to Read More Reviews and See Today's Price on Amazon.com <<
The Boxtech Aquarium cleaner is more than just a cleaner. It's a water changer, vacuum, and siphon.
The multifunctional tool is compatible with an additional nozzle to help clean your gravel or your sand and sucks up the gunk that sinks to the bottom of the tank effectively.
The siphon – vacuum – changer is compatible with 1 pcs soft water pipe and 2 pcs hard water pipes and is easy to install and operate.
Here's the breakdown:
The Boxtech has an anti-backflow valve design that has a widened anti-reverse people to prevent the tubing from draining the wrong direction as you clean.
Plus, it has extra long tubing and hard pipes to help you really get at those deep, dirty spots in your aquarium without getting your hands wet.
The quality of the manufacture – using quality flexible PVC plastic – means it will last a long time and keep working for years to come.
>> Tap Here to Read More Reviews and See Today's Price on Amazon.com <<
The Hygger bucket-free water change and siphon kit is the perfect solution for making that aquarium cleaning job easy and fast.
The system helps save time and energy thanks to not needing to lug around a bucket back and forth.
The auto siphon makes it even easier by simply attaching the siphon to a faucet and turning on the tap. The water automatically flows out of the tank through the gravel tube.
The water pressure from the faucet then allows the water to flow properly, cleaning the gravel or sand as it works.
Here's the breakdown:
Type: Auto siphon
Length of tubing: 49 feet
Compatible with: Deep water, small substrate, and small fish tanks 10+ gallons
The auto siphon and bucket-less design for this siphon kit enables you to both drain the aquarium and clean the gravel at the same time.
The kit fits most faucet types and has a built-in 3-size adapter to adjust to female 15/16-27 thread, 13/16-27 thread, or male 55/64-27 thread.
It also has a built-in on/off valve for easy adjustments and control, with the valve flowing the water flow direction.
The kit includes gravel tube, 3-faucet adapter, 49 feet of vinyl hose, debris vacuum, and a faucet pump.
>> Tap Here to Read More Reviews and See Today's Price on Amazon.com <<
This fish tank gravel cleaner and pump kit is another all-in-one model at an even lower price.
It's decently made, but not quite as top-notch as some of the others, which is why it's lower in the rankings. But if you need a super budget-friendly model, this is a great choice.
It has a large airbag for pumping, an adjustable water flow controller and works well for gravel cleaning. It's a great first cleaning kit for kids' to learn aquarium care with, in particular.
So, despite this fish tank vacuum feeling like a thin series of plastic tubes, it's actually a highly effective, easy-to-use BPA-free device to get your gravel clean.
It feels thinner than other models, but that's actually because it's designed to be especially portable, light, and easy to use for anyone.
Here's the breakdown:
Type: Faucet
Length of tubing: 44-inches
Compatible with: 40-gallon or smaller fish tank, almost any substrate material
This lightweight vacuum gravel cleaner is incredibly safe for your fish, using a gravel guard – and small fish – to keep your tank safe and your fish safer. It comes with a clamp for clipping the tubing to keep the pump and cleaner hassle-free.
Connect the tubing to the faucet – as indicated in the included owner's manual and video – and let your sink do the work for you. It's easy to disconnect from the faucet, and even easier to control the water flow.
Just make sure you look at the illustrations as you put the kit together to make sure everything is attached going the right direction.
>> Tap Here to Read More Reviews and See Today's Price on Amazon.com <<
The Best Aquarium Vacuum Cleaner Options on the Market
So, whether you choose the Python Pro-clean as your best gravel vacuum, the Boxtech Aquarium cleaner, or even one we haven't listed, be sure to verify the aquarium gravel vacuum won't suck up your guppies.
Or traumatize your betta by operating without proper flow.
Top tip: Read the reviews carefully from the latest purchases to make sure of this, as well as to make sure you're not getting some knockoff hunk of junk from a counterfeiter company.