One of my earliest memories from childhood is sneaking downstairs right after our family got some new saltwater fish.
I had a Klein's butterflyfish named Butterfly – so creative, I know – and some green Chromis to keep him company.
And though I was only four at the time, I still remember the beautiful stand our tank lived on. The wood finish, the warmth of the color, the bright light attached to the aquarium all made up my fondest early fish keeping memories.
Of course, at the time, I had no idea where the wood fish tank stand came from and how much effort my parents put into choosing it.
I just remember the wonder of watching my butterfly fish zipping around, following my finger, and dodging through the coral pieces I helped pick out.
Since you're reading this article, you're in the same position my parents were at that time, way, way back.
And thankfully, you have the internet.
They just had the local pet store.
Of course, that also means there are hundreds more options to choose from. And that's what we're here for – to help narrow the list, whether you're got 10-gallon upright aquarium stand or a 55-gallon tank and need heavy storage space.
Let's get to it.
Best Aquarium Stand Quick-Find Table
Image
Product

10 Gallons

Solid steel weld

Modern

10 Gallons

Solid steel weld

Modern

VIEW LATEST PRICE

20 Gallons

Solid wood

Modern

20 Gallons

Solid wood

Modern

VIEW LATEST PRICE

10 Gallons x2

Durable steel

Can hold 2 small tanks

10 Gallons x2

Durable steel

Can hold 2 small tanks

VIEW LATEST PRICE

10 or 20 Gallons

Many color options

Versatile

10 or 20 Gallons

Many color options

Versatile

VIEW LATEST PRICE

75-90 Gallons

Lots of storage

Modern

75-90 Gallons

Lots of storage

Modern

VIEW LATEST PRICE
Why It's Important to Choose a High-Quality Stand
Before we dive into the fish aquarium stands reviews, let's take a look at a few factors in your selection process.
The first is a basic understanding of your need to choose a high-quality stand over a "quick find" somewhere on the internet.
There are a couple of reasons most commonly cited for choosing the best aquarium stand beside the obvious of "who wouldn't want the best?"
Poor Quality Stands May Not Hold Up Well Enough
The first is that lower-quality stands may not hold up to the weight of the aquarium once it's full of water, fish, and the gear these fish require.
Poor quality lumber, cheaply welded metal, and other materials may come crashing down not only failing to protect your fish but causing damage around the home.
Be sure to check reviews to verify that the quality meets the standards required to handle a tank of your size.
"Quick Choice" Stands May Not Do All You Need
If you're anything like me, space is at a premium in the place where an aquarium goes.
That means having a quality stand that also serves as a closed storage unit for fish keeping supplies is critical.
My cat may never stop stalking the bettas and tangs, but she doesn't need to get into the cleaners and fish food in the process, either.
The Wrong Height Can Challenge Your Enjoyment
The final thing I'd like to note is that if you choose the wrong aquarium stand, you may wind up with something that's the wrong height for your enjoyment.
We keep fish because we love watching them. The wrong height stand can deter that.
How to Choose the Best Aquarium Stand
Think through these factors to determine exactly which stand is best for your situation. For long-time fish keepers, you already know these things, but for those just getting started out, some of these might not occur to you naturally.
Peruse the information and compare factors with each aquarium stand you consider. Compare materials, size and design, et cetera, and always verify the stand fits your tank's measurements and gallon-size.
Choose on Size Appropriateness
The most obvious part of selecting an aquarium stand is making sure you get one that fits the size and weight of your aquarium.
Just verify the overall weight of the filled aquarium and determine the size by gallon, since most stands are designated by gallon-size rather than dimensions – especially those made from fiberboard.
You do, however, also need to check dimensions, in case your aquarium isn't 100% standard, or the stand isn't.
And remember that the gallon-size is critical, even if the measurements of the tank itself fit.
The number of gallons in the tank determines the overall weight of the aquarium.
If you purchase a stand designed for a ten-gallon tank but yours is a 20-gallon that has the same measurements, you could easily be getting something that won't hold up under the pressure.
Decide on the Type of Opening You Need
Generally, stands are open on the top, which means they work for standard glass aquariums. But if you're using acrylic aquariums, you need something that supports the entire bottom of the aquarium.
You should also consider a self-leveling mat for any rimless aquariums.
The opening at the top is handy for placing large sumps – if it will be placed on the stand – as the sump cannot be removed once you've installed the tank portion of the aquarium.
The space for storage within the stand is also important. The right stand hides equipment, making the setup more attractive overall, but having the right door setup also means its easier to maintain your equipment.
A stand with a brace in the middle can make this difficult. The higher-end options often don't have this challenging brace placement.
Personally, I like a solid wood stand that has a nice cabinet. I can close the doors to keep the kitty out, hide the ugly wiring and sump, and keep all of the supplies conveniently nearby.
But there are situations where you might not be as picky about appearance or need the convenience of an "open-air" situation. Either is fine, as long as it suits your particular needs.
Find the Right Height for Your Stand
The height of the stand also impacts your setup, but probably more so affects your viewing pleasure of the aquarium.
Be sure to align the height of the aquarium with how you'll be viewing – sitting or standing, same level or different – and who else may be enjoying the fish.
If you've got kids, you want a lower stand, for example.
Choose a Canopy or No Canopy Setup
Finally, you should determine if you need a canopy or not. Canopies are less popular than they used to be – thanks largely to ceiling and tank mounted lighting systems – but a canopy may be better for your particular setup.
This is an aesthetic issue. Be sure to view images of the canopy styles and consider the appearance in your planned aquarium space before deciding.
Reviews of the Best Aquarium Stands
Below you'll find the best of the best aquarium stands available online. Each stand meets the standards listed above and meets the standards of high-quality manufacture.
The best quality tank stands are made from high-quality materials like metal and solid wood. The Imagitarium Brooklyn Metal Tank Stand is one of those options.
Designed specifically for 10-gallons – though they have other model sizes as well – the Brooklyn is stand comes highly recommended by a number of users.
The rundown:
Size: 20.5 x 10.5 x 29.5 inches
Gallons: 10 gallons
Materials: Solid steel weld, metal frame
Suitable for: Small spaces
Style: Modern; black
Features: Adjustable feet for leveling
Enclosed cabinet: No
The stand is made from durable solid steel with sturdy construction and has adjustable feet for leveling as needed before installation of your tank.
The stand has an open top, however, so it's designed for glass, not acrylic tanks, for best results. You may be able to add additional slats for full support of an acrylic aquarium, though.
The stand is incredibly easy to assemble, has a nice black finish for blending into any modern décor, and is made with solid steel weld for a long lifetime.
>> Tap Here to Read More Reviews and See Today's Price on Amazon.com <<
For another winner from Imagitarium comes the Newport Wooden Tank stand.
This model is designed specifically for 20-gallon tanks and provides the same features we love in their metal models: adjustable leveling feet.
The rundown:
Size: 30 x 25 x 13 inches
Gallons: 20 Gallons
Materials: Solid wood
Suitable for: Small and medium spaces
Style: Contemporary/Modern; black
Features: Adjustable nylon feet for leveling
Enclosed cabinet: No
This wood model from Imagitarium comes with a solid top, meaning you can use either acrylic or glass aquariums here, plus, if you wanted, you could add a second, smaller tank on one of the other levels.
Folks who've used it recommend using the bottom shelf for the second tank rather than the middle shelf, however.
 The stand is a clear, clean modern design with straight lines and nice contemporary visuals. It comes in black and puts together easily and quickly.
>> Tap Here to Read More Reviews and See Today's Price on Amazon.com <<
If you've got two small-gallon aquariums you're looking to set up together, the Aqueon Forge is a great option.
This metal frame, double-decker, modern tank stand is attractive, easy to assemble, and comes highly recommended.
The rundown:
Size: 28.25 x 16.25 x 5 inches
Gallons: 10 Gallons (2)
Materials: Durable steel
Suitable for: Small spaces
Style: Modern/industrial; black/tan
Features: Reversible wood panels (tan or black)
Enclosed cabinet: No
The aquarium stand has an open top for installation – appropriate for glass aquariums – and a second, lower, solid shelf – suitable for glass or acrylic tanks. The stand is made from durable steel construction and easily assembles in 6 or 7 steps.
The stand has a rust and moisture-resistant powder coated finish for an attractive, modern/industrial look, and doesn't take up much room and won't have water damage from typical use.
That means it's great for a wide range of spaces, including smaller apartments and houses where space is truly at a premium.
One nice thing about this aquarium is that you can reverse the wood panels for either an all-black piece of furniture or a black and tan-wood piece, depending on your personal style.
This stand is appropriate for one or two 10-gallon tanks at the most.
>> Tap Here to Read More Reviews and See Today's Price on Amazon.com <<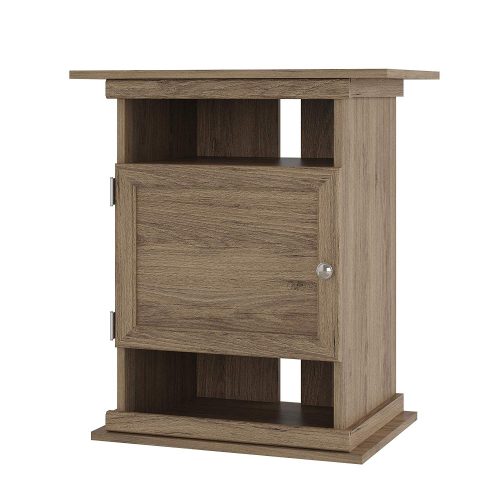 For the home that needs some versatility, the Ameriwood Home Flipper Aquarium Stand is a good choice.
This works as either a 10-gallon fish tank stand or 20-gallon aquarium stand. The kit comes with two different toppers that you can securely place for either size.
The rundown:
Size: 28.03 x 25 x 15.67-inches
Gallons: 10 Gallons or 20 Gallons
Materials: Laminated MDF & particle board
Suitable for: Medium spaces
Style: Rustic; black, dove gray, ivory, or rustic oak
Features: Versatile tops for either 10 or 20-gallon tanks
Enclosed cabinet: Yes
With this versatile piece, you can house your ten or twenty-gallon aquarium on the top shelf, some décor items on the upper inner or lower shelves and hide away the awkward supplies in the enclosed cabinet space.
You can choose from four different colors, as well, just choose the shade you like best: dove gray, black, rustic oak, or ivory.
It's a little harder to assemble than some other models but well worth the time and effort for a really nice-looking aquarium stand.
It's recommended that two adults work on the assembly since some of the larger pieces are heavy and awkward. The whole thing weighs about 47-pounds.
>> Tap Here to Read More Reviews and See Today's Price on Amazon.com <<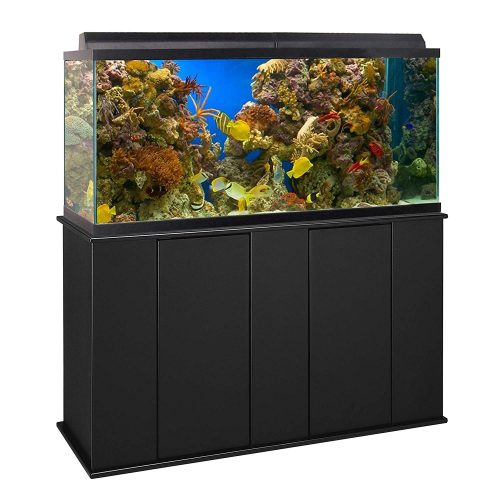 While this is made from fiberboard, it is very sturdy and strong…it'll even fit some 90 Gallon aquariums, so for a 75 Gallon, it'll hold it with ease.
The rundown:
Size: 49.37 x 19.37 x 28.25 inches
Gallons: 75-90 Gallons
Materials: Dense fiberboard
Suitable for: Large spaces
Style: Modern; matte black
Features: 2 front doors, plenty of space for pumps, filters, etc., back is completely open for easy routing of wires
Enclosed cabinet: Yes
This large fish tank stand is an extremely well-thought-out option for aquarium lovers.
Theres a ton of room for every piece of equipment you'll need, both attached to the aquarium, and for maintenance/feeding.
It looks great and has a moisture-resistant black powder coat finish.
>> Tap Here to Read More Reviews and See Today's Price on Amazon.com <<
For the Other Most Popular Tank Sizes
I wanted to offer a quick run-down of the other best modern aquarium stand options.
Many of the stands are similar in nature, come from the same brand, and have a similar reputation.
So, here's the basic rundown.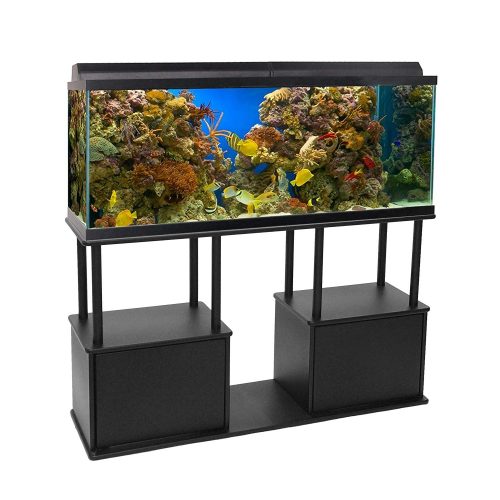 For a unique aquarium experience, the split support 55-gallon aquarium stand from Aquatic Fundamentals will give your fish all the support they need while intriguing your guests.
The stand offers shelves and strong support for your tank.
>> Tap Here to Read More Reviews and See Today's Price on Amazon.com <<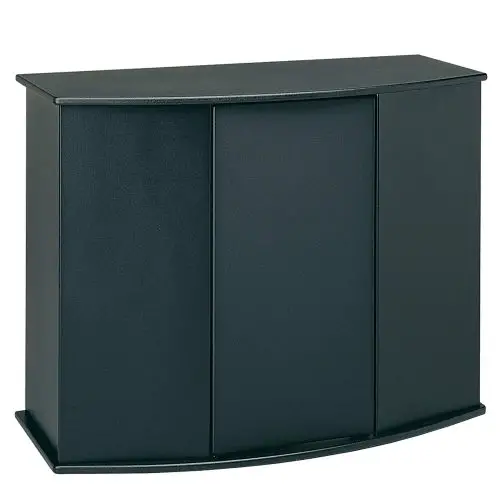 If you need a bowfront aquarium table stand, the Aquatic Fundamentals bowfront stand is perfect for your 46-gallon tank.
The stand is extremely durable and uses a metal-to-metal locking cam assembly.
>> Tap Here to Read More Reviews and See Today's Price on Amazon.com <<
The Best 30, 38, and 45 Gallon Aquarium Stand
This Aquatic Fundamentals stand comes as a 30 Gallon, 38 Gallon, and 45 Gallon aquarium stand.
This tank stand has a hinged door for hiding your equipment and access while providing you with an attractive enclosed cabinet that most people won't even realize serves such a specific function.
>> Tap Here to Read More Reviews and See Today's Price on Amazon.com <<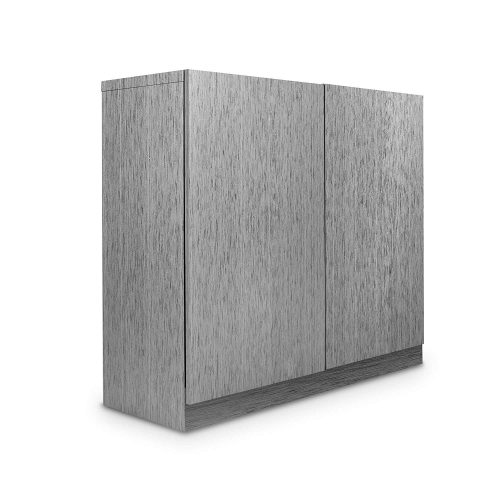 The best 40-gallon aquarium stand comes from the well-trusted Imagitarium, in the form of their "brushed steel look" enclosed cabinet stand.
It's made from wood with a gorgeous modern style that will blend in just about anywhere that sharp design, steel, and square edges reside.
>> Tap Here to Read More Reviews and See Today's Price on Amazon.com <<
For your 50 or 65-gallon fish tank needs, the single cabinet Aquatic Fundamentals stand offers you the sturdiness and simple beauty of a wood stand available in solar oak, black, or serene cherry finishes.
>> Tap Here to Read More Reviews and See Today's Price on Amazon.com <<
Your Best Aquarium Stand is Right Here
To find the best stand for your aquarium, just remember to keep in mind:
The height
The size and shape of your aquarium
Whether or not you need enclosed cabinet space
The basic style and design – will it fit into your décor scheme?
The quality of manufacture
What others are saying about the model
Review our list for great options and see which one(s) fit your needs, whether it's the versatile 10/20 gallon stand from Ameriwood or the impressive 75-gallon stand from Aquatic Fundamentals.