My earliest memories of fishkeeping go back to my pre-school days in the cold weather of the north. I can still see the fish swimming among the equipment – filters, aquarium water pump, tubing, etc., and their plants.
I can remember hunkering down in front of the aquarium, watching the fish for hours because I couldn't sleep.
I remember all the bettas and guppies, butterflyfish, and angelfish in the freshwater tanks we kept over the years…and I don't remember a single thing about caring for the fish.
And even though I know I fed them daily and learned the names of all the equipment that was stuck here and there, jammed in a corner, drooping into the fish tank itself, or hiding behind the shelf on the windowsill nearby. It's all gone.
As an adult, I'm a heck of a lot more aware of all the ins and outs of fishkeeping! These sometimes delicate creatures require a fair bit of high-quality equipment and additives to keep their homes safe, clean, and healthy.
Author note: And one of the most important pieces of this happy aquarium puzzle is finding the best water pump.
Best Aquarium Air Pump Quick-Find Table
Image
Product

Submersible and easy to install

Extremely quiet – perfect for tight spaces and bedrooms

Very reliable and durable

Submersible and easy to install

Extremely quiet – perfect for tight spaces and bedrooms

Very reliable and durable

VIEW LATEST PRICE

BEST LARGE AQUARIUM WATER PUMP

BEST LARGE AQUARIUM WATER PUMP

Great for aquariums 100+ gallons

Very powerful, durable, and reliable

Comes from a bestseller brand you can trust

Great for aquariums 100+ gallons

Very powerful, durable, and reliable

Comes from a bestseller brand you can trust

VIEW LATEST PRICE

HIGHLY-RATED, MOST POPULAR OPTION ON AMAZON

HIGHLY-RATED, MOST POPULAR OPTION ON AMAZON

Battery or outlet powered

Easy to clean

Highly durable

Battery or outlet powered

Easy to clean

Highly durable

VIEW LATEST PRICE

RUNNER UP & BEST WATER PUMP FOR SALTWATER

RUNNER UP & BEST WATER PUMP FOR SALTWATER

Great for saltwater or freshwater alike

Works for up to 1000+ gallons per hour

Comes in 3 capacity sizes

Great for saltwater or freshwater alike

Works for up to 1000+ gallons per hour

Comes in 3 capacity sizes

VIEW LATEST PRICE
What is an Aquarium Water Pump and What Does it Do?
For those who may be new hobbyists in the aquarist world, a water pump is a critical part of the aquarium in most cases for a number of reasons.
There are a variety of water pump types, each with different components that keep them running and flowing throughout the day and night. And there are hundreds of product options out there to sort through.
Specialty pumps that do this or that, in addition to pumping the water. Pumps that use this kind of impeller and pumps that use that kind of spinning shaft, and so on, and so forth.
As the foundation of every water pump, though, there is an impeller.
This is the part of the pump that moves in the water via centrifugal force.
Author note: Impellers may have a variety of different designs, and honestly most of us can't tell the difference between them, but they may be straight or curved and can be tucked between either closed solid plates or semi-open with a single plate.
Impellers are attached to shafts that spin, driven by the electric motor. The enclosure around the impeller is what makes the difference, though, as just spinning a shaft in water doesn't do a whole lot to actually move fluids.
As the impeller spins, the water is pulled into the intake port where kinetic energy is transferred to the water via that spinning of the impeller. This is what creates the water flow of an aquarium water pump.
Why Do I Need an Aquarium Water Pump?
For the health of the miniature eco-system in which your fish live, a water pump is necessary, no matter the size of your tank.
The reason?
They help to aerate the water sufficiently for your fish to have enough oxygen in the water for breathing.
Author note: A lot of people may try to sell air stones as an option over a water pump – after all, they make those lovely bubbles! – but they are not enough to produce the levels of oxygen movement through the water that most aquariums need.
While technically your fish and plants may do okay without a water pump, they will do much better with one.
Plus a water pump adds a bit to the natural environment feel that your fish and plants naturally seek even if they have never been in the wild.
Types of Water Pumps
There are a variety of water pump types that you could purchase, though the two main ones are in-line and submersible water pumps.
Let's take a look at them so you can determine which is most appropriate for your aquarium setup.
Submersible Water Pumps
The most common water pump type is the submersible pump. They are run completely underwater, usually in the sump of a wet/dry filtration system.
They draw the water in from the filter and then push it back into the aquarium or through other devices like aquarium chillers, UV sterilizers, et cetera, depending on your exact setup.
Submersible pumps have several advantages over others, which is probably why they're so popular.
They have quiet operation – more so than many other options – but more importantly, they're a heck of a lot easier to install because they don't require you to do any drilling into the bulkhead of your filtration system.
They're also water cooled, since they're, y'know, in the water, which means they don't heat up and overload.
If you do decide to go with a submersible water pump, be aware of two things.
First, because they are water cooled, they may push some heat out into the water. These shouldn't be used in cold water aquariums as readily as other types as they may heat the water too much.
Secondly, they take up space in the sump, so if your space is at a premium in there, be careful of the dimensions of the pump.
In-Line Water Pumps
The second water pump type we'll look at is the in-line pump. They're used outside of the water and connected to an inlet hose and outlet hose used to filter your aquarium water.
Top tip: The big advantage on these pumps is that they're air-cooled instead of water cooled, which means they add less heat to the water than submersibles. They're also usually pretty powerful, so they work better for larger aquariums.
In-line water pumps can work in one of two installment configurations, though a rare few work in either. They'll either work in a pressure setup or a free-flow setup.
Pressure setups normally places the pump before the canister filtration system. The pump forces water under pressure into the canister filter system.
This kind of setup receives a substantial amount of back pressure from the filter, which they may or may not do well with.
Free-flow setups usually place the pump after the filtration, like with a wet/dry filter. The pump uses the filtered water from the sump and sends it back into the aquarium or other devices.
These setups receive very little back pressure and are more able to move the water with less effort.
Reviews of the Best Aquarium Water Pumps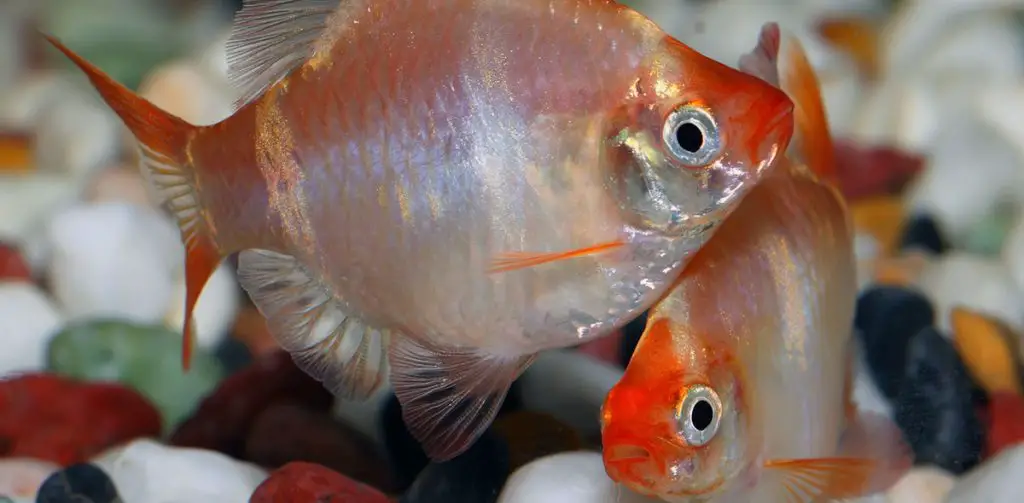 We're here to give you the best aquarium pump reviews you've ever read.
And that's important, because we were surprised to see how many of the reviews we were reading had really negative reviews from real-life users – and strangely from the review sites we found many of them on.
So it took us quite a while to decide on which ones to review for you.
Ultimately, we reviewed dozens and created the list below from a number of qualities that we look for in the best aquarium pumps.
This would mean efficient power consumption, low noise levels, and high enough volume to actually pump the water through.
A few of the things we specifically looked for included:
Trusted name brands that we've worked with in the past and know will produce quality equipment
Easy to understand and install devices
High enough output for the average aquarium size of 20+ gallons of water
Long enough cords that they don't require extension cords – safety people!
Durability
Energy consumption efficiency
Versatility as much as possible
If you're looking for an overall, just plain good submersible water pump for your mid-sized aquarium, then you've come to the right review.
The EcoPlus 396 Submersible Water Pump is a highly durable, long-lasting, efficient, and extremely quiet water pump that's great for use just about anywhere.
GPH: 396
Suitable for: Saltwater, freshwater, ponds, hydroponic systems, fountains
Noise levels: Extremely low
What We Loved
While this isn't the most powerful motor on the market – which in many cases is a good thing – we love that oomph this baby puts out.
It's great for aquariums in the 20 to 100-gallon range for high water flow, and larger for the lower flow rates needed for "still" water ponds and aquariums that lake dwelling creatures would need.
Though the pump is submersible, many have reported that it can be used in-line as well, which is pretty great for versatility, depending on your situation.
And since it's also really durable and lasts for years, that makes it great for anyone learning the aquarist skills.
The water pump is extremely quiet, something we absolutely love, and therefore really great for tight spaces – think studios, bedrooms, and offices – as well as larger areas where noise may or may not be as much of an issue.
And, of course, what we love most about this already great quiet aquarium water pump is that it's a really durable, long-lasting option.
While we haven't been reviewing it long enough to say this, we've seen so many reports from real-life users who say it's lasted them for years and years.
We love that it's a reasonably priced option that doesn't have to get replaced all the time.
What We Didn't Love
The only real issues we've potentially see with this water pump is that it's not really that great for some when being used in-line.
While it can be used this way, there were some issues for several commenters that demonstrate that you might want to just use as a submersible instead.
Our Verdict on the EcoPlus 396 Submersible Water Pump
All-in-all, we just have to say this is the quietest submersible aquarium pump that works efficiently and lasts forever. You won't have to keep rebuying over and over again.
You can install and maintain, and know you're keeping your aquarium fresh, clean, and healthy with this pump assisting the other systems in there.
>> Tap Here to Read More Reviews and See Today's Price on Amazon.com <<
For anyone with a large aquarium, you'll want to consider the Hydrofarm Active Aqua Submersible Pump 1000 GPH option. It's got an output of 1000 gallons per hour and it's specially designed for large gallon reservoirs of water.
It's also designed to last and work both indoors and outdoors – so, yes, it's even great for your ponds.
GPH: 1000 (although it's also available in other sizes down to 40 gph)
Suitable for: Indoor, outdoor 100+ gallon tanks
Noise levels: Reasonably quiet
What We Loved
First off, we love that this pump was designed with large aquariums and other bodies of water in mind. It moves 1000 gallons an hour, meaning no need for additional pumps to cycle through the water each day.
And despite the size, it's a fairly energy efficient aquarium pump.
We also love that this comes from an environmentally conscious company. They make the pumps without oil and in an environmentally safe way.
The fact that it's made for both indoor and outdoor use also says a lot about this commercial grade water pump. It can handle anything you throw at it and keep going. It's incredibly durable and lasts for years.
Its electrical magnetic air compressor system is housed in a high-quality aluminum case and the pump itself has a wear and tear resistant cylinder and piston to keep it going for ages.
The pump can power multiple air stones at once with high water output, all while being fairly quiet.
Finally, these submersible aquarium pumps are energy saving, so you won't spend a bundle on the electric bill to keep it running.
What We Didn't Love
The only potential issue we've seen with this Hydrofarm utility pump is that some of them can get warm after an extended period of time running.
It seems like it would be a good idea to give the pump a rest every so often to prevent the overheating issue. You may also want to invest in an aquarium chiller or two is this winds up being a problem. 
Our Verdict on the Hydrofarm Active Aqua Submersible Pump
The Hydrofarm Active Aqua Submersible Pump is a fantastic option for anyone running a large aquarium setup – or pond – and needs intense water movement.
The pump can work through 1000 gallons an hour, has an incredible record for durability, and comes from a manufacturer that really knows its stuff. Just give the pump a break every now and then to prevent overheating.
>> Tap Here to Read More Reviews and See Today's Price on Amazon.com <<
For those looking for an easy-to-clean aquarium water pump model that works for saltwater tanks or freshwater tanks, then you're looking in the right place.
And while the Vivosun brand might be more associated with solar energy products than say Tetra or Aqueon, this one is a keeper.
The brand has been proving themselves manufacturers of reliable, high-quality goods for a while now in the fishkeeping realm, too.
And the Vivosun 800GPH Submersible Pump is definitely one of our top-contenders for best fish tank water pump.
GPH: up to 800 gallons per hour
Suitable for: Aquariums, ponds, fountains, hydroponic system, irrigation system, waterfall
Noise levels: Reasonably quiet
What We Loved
The Vivosun Aquarium Water Pump is a great choice for many folks thanks to its versatility and power options.
The pump has a battery powered system as well as electrical outlet installation option with 6.5 foot power cord. It's super convenient for placement and installation.
The max flow rate of the pump is 800 gallons per hour, with a max lift height of 10 feet. The pump also runs on 24W – promising plenty of power.
We also love that the Vivosun model is extremely easy to detach and clean and that it's equally easy to hide or disguise so it doesn't take away from the aesthetic of the tank.
You can place the pump flat on its base, attach it to the sides of an angled or vertical surface, and you can manually rotate the pump into the position desired.
Plus, it uses 3 different outlet adapters, as needed, with diameters of 0.51 inches, 0.62 inches, or 0.74 inches, to make sure it fits your need.
And thanks to the power, this is perfect for use in goldfish tanks, saltwater aquariums, small to medium ponds, waterfalls, hydroponic systems, and practically anything else.
What We Didn't Love
While we didn't see much of this, we did note that the cord has to be carefully placed in a non-cramped space or it may have some major heating issues.
Our Verdict on the VIVOSUN 800GPH Submersible Pump
Ultimately, if you've got a small aquarium, small pond, or small water fountain, this is the water pump you should look into.
It's reliable, durable, easy to use, clean, and maintain, and it actually does the trick, all while being small enough few people would ever notice it – even you.
>> Tap Here to Read More Reviews and See Today's Price on Amazon.com <<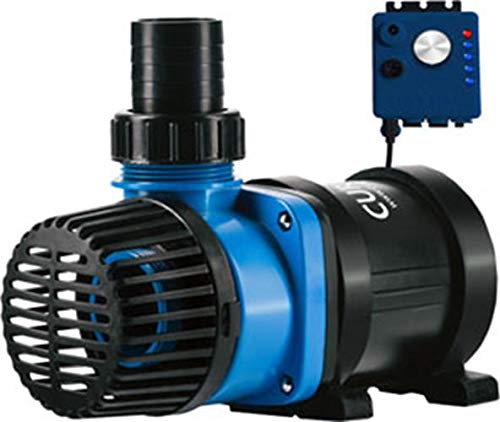 The Current USA eFlux DC Flow Pump comes from another well-trusted brand in the fishkeeping industry.
It's the best pump to use for saltwater aquariums and the best inline aquarium pump or best external aquarium pump.
It's great for ponds, moderately sized aquariums, has decent flow rates, adjustable knobs for the flow rate, and is easy to use, clean, and maintain.
There are three size options, though all of them are pretty huge (1000+ GPH).
All-in-all, it's a very good choice for your saltwater aquarium.
>> Tap Here to Read More Reviews and See Today's Price on Amazon.com <<
How to Choose the Best Aquarium Water Pump
As you can probably assume from the setup information for the three types of pumps we've talked about, there are several things that matter for choosing your aquarium's circulation pump.
Filtration System
Because the type of filtration you use affects the type of pump you can use, make sure you know what you've got working for you.
Do you have a sump that can fit the pump you're looking at, or should you go with a submersible pump instead?
Author note: While usually size doesn't matter, in this case it actually does. The wrong pump will be too large for your setup and therefore useless to you.
Desired Flow Rate
Secondly, the desired flow rate for your aquarium water is vital in your water pump selection.
What species do you stock? What kind of flow rate do they do best with?
Be sure to study up to verify if they prefer high flow or low flow. This is based upon their natural environment.
For example, planted aquariums that house fish like goldfish need a low flow rate, while reef tanks will use a higher flow rate since, well, the ocean naturally has a much higher rate than a stagnant pond.
Additional Devices You Use
Next, you've got to consider which devices you use.
Are you sending the water through a UV sterilizer, a water chiller, protein skimmer, or other device? Or are you keeping a pretty basic aquarium?
The setup can determine which options work with your new pump.
Plumbing and Head Height
Finally, what type of plumbing are you using for your system? Are there elbows, sharp turns, et cetera, or basically straight lines? Where is the plumbing positioned? Beneath the tank, alongside the tank, behind the fish tank?
Consider the total distance the pump will be required to pump the water.