Aquarium backgrounds are an interesting and unique way to create some depth, add color, and bring some intrigue to your fish tank.
They come in a wide range of options – everything from 3D rock formations to stick-on vinyl ocean floor motifs – and sizes and could be just the thing to add some punch to your aquatic hobby.
But like with anything else you use in your aquarium, you need to know if they help fish, harm fish, or are neutral. You also need to know the benefits, downsides, and anything else that might help you choose the right background for your fish tank.
Aquarists, let's dig into these questions before looking at some of the best aquarium background options out there.
Best Aquarium Background Quick-Find Table
Image
Product

2 sided

Natural look

Lots of sizes

2 sided

Natural look

Lots of sizes

VIEW LATEST PRICE

2 sided

Mimics hiding spaces

Lots of sizes

2 sided

Mimics hiding spaces

Lots of sizes

VIEW LATEST PRICE

Looks great

Scratch resistant

A few size options

Looks great

Scratch resistant

A few size options

VIEW LATEST PRICE

Rich color

Budget friendly

24 x 12

Rich color

Budget friendly

24 x 12

VIEW LATEST PRICE

Amazing texture

Can be cut to size

Realistic

Amazing texture

Can be cut to size

Realistic

VIEW LATEST PRICE

2 sided

Natural look

Lots of sizes

2 sided

Natural look

Lots of sizes

VIEW LATEST PRICE

2 sided

Basic colors

Budget friendly

2 sided

Basic colors

Budget friendly

VIEW LATEST PRICE
Do Fish Need a Background in the Aquarium?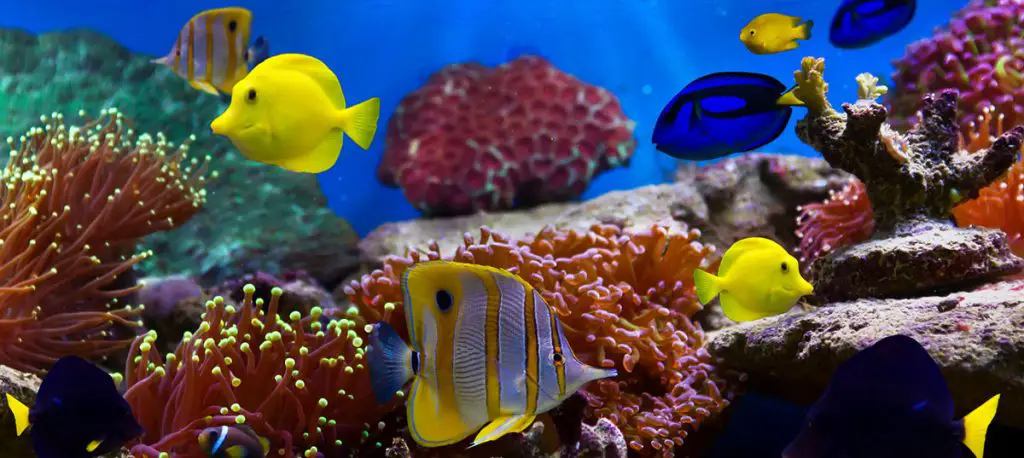 Technically, fish do not need aquarium backgrounds. Many times they are used as a decorative thing for the sake of fish keepers.
However, there are studies that have been conducted that show that some fish are actually afraid of their own reflections.
Aquarium backgrounds can help to deal with this. Glass can be reflective, which may cause issues for some fish. Backgrounds can prevent some of this reflection from happening in some situations, which may reduce stress and fear for the fish you keep.
They can, of course, add a measure of attractiveness for fish keepers as well.
How to Choose the Right Aquarium Background
Besides the obvious issues of taste and size, there are some things that make one background better than another. There are three basic types of backgrounds that you can install in your aquarium.
So, let's take a look at how to choose the right aquarium background.
Your Fish's Needs
Different fish have different needs in a background aquarium. Saltwater fish versus freshwater fish have different needs, as do riverbed fish versus tropical fish.
The background you choose should be appropriate for the fish species you keep at home.
Your Personal Preferences
Within the realm of your fish's natural habitat, there may be several types of options that would suit your preferences more than another.
You can choose between the various types to not only fish your fish's needs but your own preferences.
Color of the Background for Your Aquarium
Beyond the other aspects to consider, the color of the background can have a significant impact on your overall aquarium experience.
If you chose a background that's the same basic color as your fish, sand, or decorations, you won't be able to enjoy much of anything. So, if you have light-colored fish, choose a darker background to make them pop. Or, if you have dark fish, go with a lighter colored background.
If you have poor lighting, a dark background will also be problematic.
You won't be able to see much in there. You also want to make sure the colors compliment each other, rather than a dull, single-colored blur.
The Size of the Aquarium
The aquarium size is one of the most important aspects of choosing the right background for your fish. The depth, the dimensions, gallon-size, and of course, the cubic measurements.
Long, thinner aquariums won't be able to accommodate deep backgrounds, for example. Be sure to keep this in mind as you choose.
Overall Improvements of the Aquarium
Finally, and potentially most importantly, the type of background you choose should be something that overall improves the health and life in your aquarium.
For example, a black background that darkens an aquarium for fish and aquatic life that's usually found in deep waters could improve the overall health and life of the aquarium. You must have the right lighting setup, however, for this to work properly.
Fish from the ocean may well benefit from a background that lends an "open" appearance to the aquarium. For example, a sandy bottom, non-busy image may well be relaxing for you both.
Some fish will enjoy things like 3D structures you build or pre-fabricated backgrounds that offer rock levels and ledges where fish, snails, and other creatures can "roost" comfortably.

The Types of Aquarium Backgrounds
Let's get into the various types of backgrounds now. Think through the types of fish you, the colors you need to complement, and the lighting you have before choosing which style to purchase.
Painted on Backgrounds
Painted backgrounds are literally just that – a background that's painted onto the back of the aquarium.
Generally, this will be a solid color background – like blue or black – and can be applied to just about any style or size aquarium out there.
This could be the best choice for odd-shaped or uniquely-sized large aquariums, as pre-fabricated backgrounds simply won't fit properly.
If you do choose to go this route, you'll need to make sure you choose a paint that's designed to adhere to glass or acrylic – whichever your aquarium is made from. Just remember that once you choose this style, you won't be able to change it later without a bit of work.
Cling or Vinyl Backgrounds
Vinyl backgrounds are probably the easiest option out there – and generally, the cheapest.
These are sold by dimensions, so be sure to choose one that fits your tank size.
There are technically backgrounds that both insert into the tank or apply to the back. We recommend never using the insert style as vinyl stick-on backgrounds often use adhesives that aren't safe for your fish. Verify by the label first to make sure they're safe before you consider the insert style backgrounds.
Eventually, these backgrounds will fade, due to the light exposure, but if you want a quick, easy-to-apply background, these honestly are still probably your best bet.
3D Backgrounds
3D backgrounds are also available for use in your aquarium. These either come in the form of a pre-fabricated, textured background or you may build one yourself using various materials such as rocks, corals, driftwood, and other natural decorations that can add both depth and beauty to your aquarium.
Building a DIY aquarium background will take time, precision, and will require a fair bit of patience, so only choose this option if you've got all three.
These backgrounds are especially beneficial for cichlids and others that live in naturally rocky or wooded environments. Choose the right items to pair with your background, and you'll find healthier aquarium dwellers as soon as they adapt to the new objects in their home.
How to Set Up Your Aquarium Background
Once you've chosen your aquarium background, you'll need to set aside some time to install it.
If you're using a background that goes into the aquarium, you'll need to remove your fish and decorations, sand or gravel, and, well, everything else, to ensure nothing is harmed or injured. This is, by the way, a great time to do a deep cleaning of the tank.
As to specific types of aquarium backgrounds, each should come with an instruction booklet. However, for those of you who are visual learners, you'll want to check out some online tutorials. A few that might be helpful include:
Reviews of the Best Aquarium Backgrounds
Now, on to the good stuff – the backgrounds themselves. We went digging around for quite a while looking for the best of the best in cool fish tank backgrounds we'd like to recommend for your use.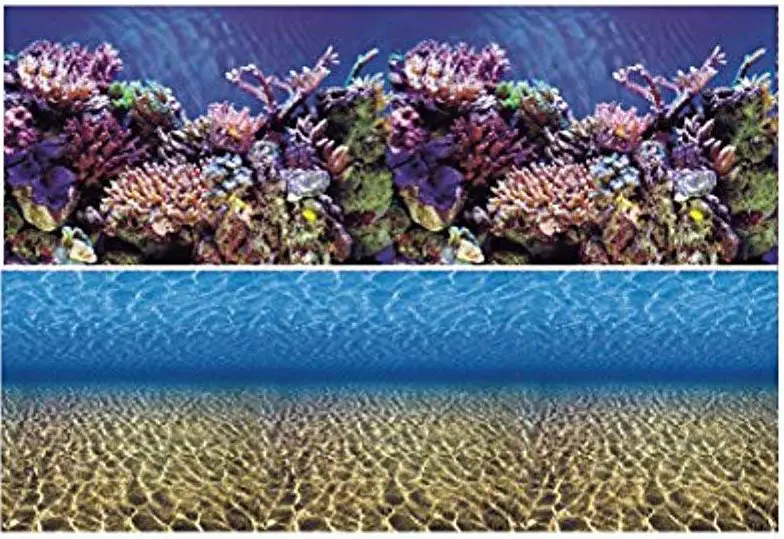 This is a fantastic aquarium background for a coral reef tank.
The ocean bed side looks just the areas I've gone swimming with tropical fish on the Great Barrier Reef or hunted for sand dollars in Florida.
It has this wide-open feeling that just about any ocean lover can appreciate, and provides saltwater tropical fish the feeling of a natural home.
The print is made of a high-quality waterproof film made with a 3-layer printing process that results in high-quality images on either side and a vibrant and colorful background that's safe to use in aquariums.
The Vepotek Ocean bed/coral reef background is an easy-to-apply double-sided option that meets most budgets and comes in a variety of sizes, including:
24 x 24-inches
24 x 36-inches
24 x 48-inches
24 x 60-inches
24 x 72-inches
>> Tap Here to Read More Reviews and See Today's Price on Amazon.com <<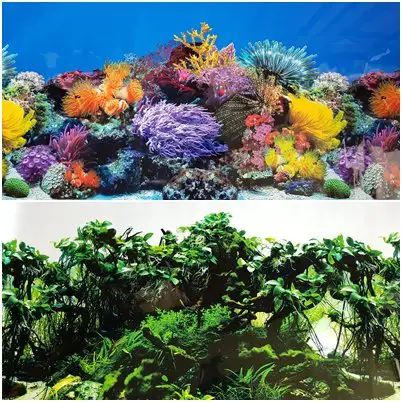 For dark fish for either tropical or lagoon-style aquariums, this background from Karen Low is a stellar option. The dark fish will contrast nicely against the brightly colored coral images or the bright green freshwater jungle aquarium plants and rocks.
You'll attach this one to the back of the aquarium with clear tape.
The Karen Low coral or freshwater jungle comes in a variety of sizes, including:
24 x 23-inches
30 x 23-inches
36 x 23-inches
48 x 23-inches
60 x 23-inches
72 x 23-inches
84 x 23-inches
96 x 23-inches
>> Tap Here to Read More Reviews and See Today's Price on Amazon.com <<
If you've got a 55-gallon tank with brightly colored fish that love semi-tropical environments, the Mangrove with Sunlight background is a great option for those yellows, reds, blues, greens, and pinks to pop in.
The image is a realistic, high-quality aquarium background that attaches via clear tape. The background is scratch resistant, tear-resistant, and applies easily to just about any aquarium back. It fits most 55-gallon tanks and measures 21 x 72-inches, but other sizes are available as well.
18 x 30-inches
18 x 48-inches
21 x 48-inches
>> Tap Here to Read More Reviews and See Today's Price on Amazon.com <<
If you've got some tropical freshwater fish, you'll want to check out this beautiful, high-definition background that pictures stunning aquatic plants in contrasting colors.
Blue, deep red, orange, yellow, and purple fish will pop against this background – making it ideal for guppies, bettas, and other small cichlids – with contrasting, vibrant colors.
The Sporn Background from Aquatic Creations is extremely budget-friendly and uses static cling for easy application to the back of your tank, meaning just about anyone can use this aquarium background for their smaller aquariums.
You can find these backgrounds in either 24 x 12-inches or 26 x 18-inches.
>> Tap Here to Read More Reviews and See Today's Price on Amazon.com <<
Personally, I love a good rock ledge. And a lot of fish and aquatic critters do, too.
This rock ledge from Universal Rocks is pretty darn realistic-looking – especially once you get it into the water and really adds some texture and depth to the aquarium.
The background comes in 48-inches by 20-inches, but they're flexible and easy to install. They can bend to adjust to the shape and size of your aquarium, or can be cut down to size.
They can also be paired with others if you have a larger tank. They come in a brownish real rock color.
>> Tap Here to Read More Reviews and See Today's Price on Amazon.com <<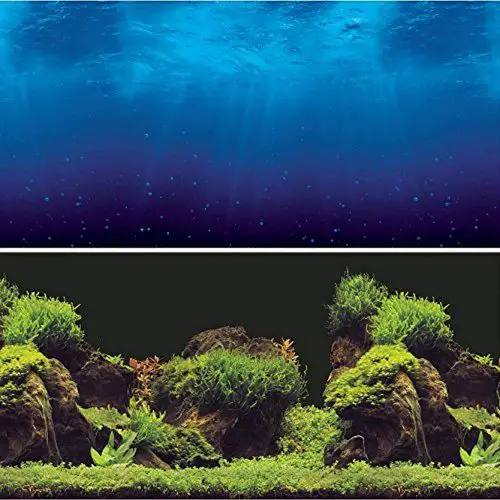 For those with a 24 by 48-inch aquarium, you're unlikely to find a pre-fit cling aquarium background as practical and lovely as the double-sided background from Vepotek featuring either a deep seabed for marine aquariums or live coral rock.
The unique printing method used by Vepotek – a triple layer poly film technique – provides the rocks and water in the image with brilliant vibrancy and rich color unmatched by most of the competition.
The prints come in a few sizes, actually, so others will also be able to enjoy this in the right aquarium.
The Vepotek comes in:
24 x 24-inches
36 x 24-inches
48 x 24-inches
72 x 24-inches
84 x 24-inches
>> Tap Here to Read More Reviews and See Today's Price on Amazon.com <<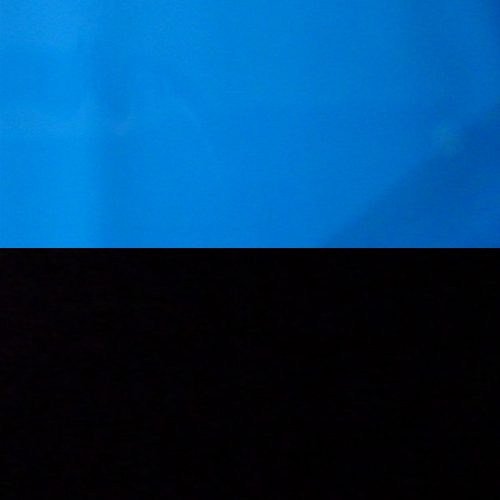 If you're looking for just a straight-up, simple cling background in blue or black, the Ethical Pets/Quantum Aquatics cling is your go-to.
This background is a two-sided option for open ocean blue or nighttime deep-sea colors.
It's budget-friendly, but not low-budget quality.
The background comes in 20-inch by 48-inch dimensions. It's extremely easy to apply, and even easier to enjoy.
This background is perfect for aquariums with multiple decorations, rocks, driftwood, caves, and similar objects, providing a non-reflective surface for your fish and an atmosphere for your pleasure. I'd recommend using this only for well-lit or deep-sea style aquariums.
Note: If you're looking for the best 10 gallon fish tank background, you can trim down just about any of these for the right fit, though this is also my personal favorite for small aquariums that could feel over-crowded with images printed on the backdrop.
>> Tap Here to Read More Reviews and See Today's Price on Amazon.com <<
Personally, I love this aquarium background from Fdit and find it incredibly intriguing.
It's a bit busy, which is why it isn't rated as highly as some of the others, but it's stunning.
If you love loads of green and the mystery of a deep forest, you'll definitely want to check out this background.
>> Tap Here to Read More Reviews and See Today's Price on Amazon.com <<
Best DIY Aquarium Backgrounds
And if you happen to be handy or just can't find a background you love for your aquarium, here are some sites that have the coolest backgrounds and tutorials for your own DIY aquarium backdrop.
For a rock aquarium background, this Youtube tutorial shows you what you need to do for your own DIY.
A DIY with foam aquarium background tutorial on Youtube will show you everything you'll need to do. Just be prepared to stop and go a bit as it blazes through. This one is for more advanced creators.
Pinterest, of course, is loaded with great options for aquarium background paper printable options that you can adhere to your aquarium with the appropriate epoxy.
For the artistic types able to create their own vision, I'd recommend grabbing some driftwood, a plain backdrop – blue or black, ideally – and some rocks that you can attach and craft a stunning backdrop of your own from the imagination.