When it comes to aquariums, the right equipment makes all the difference. An aquarium air pump included.
Whether you're looking to change out some airline tubing, or find different sizes in your new tank, it can be a hassle finding the right pieces to keep your fishy kingdom clean, happy, and running efficiently.
Even if you're just trying to verify you're still on track with getting a Tetra Whisper air pump for your setup, it can be a hassle locating the best option.
So, we wanted to take the time out of the equation for you and pull together some quality reviews on the best aquarium air pumps around that will improve the flow rate, aeration, and general health of your aquarium.
Best Aquarium Air Pump Quick-Find Table
Image
Product

Quiet and efficient

Budget-friendly

Super easy to install

Quiet and efficient

Budget-friendly

Super easy to install

VIEW LATEST PRICE

Steady output

Dual outlets

Comes with 2 air stone discs

Steady output

Dual outlets

Comes with 2 air stone discs

VIEW LATEST PRICE

Well-trusted brand

Quiet and efficient

Lightweight and easy to install

Well-trusted brand

Quiet and efficient

Lightweight and easy to install

VIEW LATEST PRICE

Perfect for running multiple tanks

Electrical magnetic air compressor

Incredibly wear and tear resistant

Perfect for running multiple tanks

Electrical magnetic air compressor

Incredibly wear and tear resistant

VIEW LATEST PRICE

Super quiet

Perfect for small aquariums and fish tanks

Super energy efficient

Super quiet

Perfect for small aquariums and fish tanks

Super energy efficient

VIEW LATEST PRICE

Incredibly quiet, motor-less operation

Non-electromagnetic air pump

Strong air stone

Incredibly quiet, motor-less operation

Non-electromagnetic air pump

Strong air stone

VIEW LATEST PRICE
What is an Aquarium Air Pump and How Do They Work?
Aquarium air pumps are a valuable piece of hardware that runs off of electricity and forces air bubbles into aquariums. They are the key working element of sponge filters and air stones.
These pumps sit on the outside of the aquarium tank and use a long tube called airline tubing. It's important to make sure the pump is placed in a dry place where it won't get splashed on.
This type of equipment can be used in either a fresh or saltwater type aquarium.
While aquarium air pumps perform a very important job, their operation is actually very simple.
First the magnet inside the device will switch between on and off. The process of the switch moving between the two modes pulls down a lever.
The lever's movement acts to pump a rubber suction cup that will suck up air and then push it out of the air pump.
It may seem silly to say, but while you're shopping for an aquarium air pump, note that there are a large number of products that are called air pumps – and they may not all be what you're looking for.
Author Note: When you shop online, double check to make sure the product you are buying is meant to be used with an aquarium and isn't a bicycle or inflatable mattress pump. (I.e., Read the reviews!)
Why Do You Need an Air Pump for Your Aquarium?
Technically, an air pump for an aquarium may not be required.
An air pump adds decorative elements to your tank by bubbling up water in the aquarium.
And more importantly, for the healthiest, most successful aquariums with lower maintenance, an air pump is your best friend.
They keep the air flowing throughout the tank, which can help reduce the gunk from gathering as quickly.
The air pump oxygenates the water in the fish tank by pumping air into the water from outside the tank.
This keeps the oxygen in the tank fresh and fluid, helping to prevent the water from growing stagnant as quickly as it might otherwise do.
The air pump keeps the water moving, bringing more to the surface. And the more surface water movement you have, the fresher the air in the tank.
Air pumps help circulate the oxygen, which also does a few things that you might find beneficial:
Helps maintain an even water temperature
Provides supplemental filtration
Promotes gas exchange
Helps create water currents for your fish
You may need an air pump for other things, too, including:
Running water filters
Running air stones
For action ornaments
Author Note: All of these function to help keep the oxygen in the tank cleaner and moving, but are technically not required.
Different Types of Aquarium Air Pumps
Depending on the needs for your aquarium, there are three types of air pumps depending on your needs.
Plug-in Air Pumps – Most common
Battery-operated Air Pumps
Battery Backup Air Pumps – best paired with a primary that runs normally
Why the Best Air Pump Makes All the Difference
Of course, the question then comes up: does the exact air pump you purchase matter? Can you just grab the cheapest thing off the shelf and call it a day?
Technically, you can use any aquarium air pump you want. But the quality will help determine a few things.
Sound Volume
For starters, the best aquarium air pump will often be a quieter model than the cheap options you can grab for the lowest price.
If you don't mind a loud, noisy bubbling sound, you may not care about this, but for folks like my spouse, this noise factor drives them insane.
Long-Lasting Quality
While you may be able to find a cheap model that lasts for years, more than likely, the off-the-shelf find at half the price will break within a few months.
The highest-quality options, however, are designed to last for several years, as long as you properly clean them.
Gallons Per Hour
Depending on the size of your tank and type of fish you keep, you have certain gallons per hour – or GPH – needs.
Larger tanks, of course, need larger pumps. But fish who love bubbles – like betta fish – will appreciate a higher-volume GPH air pump as well, even if they're in a smaller tank.
And since you're likely looking into air stones and air pumps for decorative purposes on some level, it's important to understand that GPH also affects the volume of bubbles coming out.
Author Note: Low gallons per hour may result in fewer bubbles, though that also strongly depends on the air stones you use.
Better Design
Finally, the best air pump versus an average one will have a better design. This means it will work better and require less maintenance. Win-win.
What to Look for in an Aquarium Air Pump
In case you're not 100% sure what to look for in an air pump, the first thing you should remember is this is not the same thing as one of those pumps you fill up your air mattress with!
I've seen some funky search results on this topic – resulting in air pumps of every kind but those for aquariums – so be sure to use specific search terms like "fish tank oxygen pump" or "quietest aquarium air pump."
The Right Size Pump
One of the most important things to figure out in your search is the size you need for your aquarium.
Knowing what your purpose is – air pump for the filter, air stones, or action ornaments, for example – will be part of this.
Knowing the size of your tank – by gallon – will be the other part.
The information available on each pump should help you understand how powerful the pump is and what size tank its best used for.
Top Tip: A pump too large will overwhelm your fish – or won't fit properly – but a pump too small won't do nearly as much good for aerating the water, either.
The Right Type of Air Pump
Of course, you also need to understand the different types of air pumps available so that you get the right one to meet the needs of your aquarium.
The primary types of pumps are inline pumps – that work outside the tank to pump the air in and out – and submersible pumps. Some models offer the versatility to use the pump either way.
Submersible Pumps
Submersible pumps are meant for use in the tank itself, submerged below the water line. These draw water across a filter to clean it and then force new water into the aquarium.
This functions to both filter – clean – the water and keep the air flow moving in the tank as the air and water run through the pump.
These pumps are probably the easiest to install, but they are water cooled, which means they introduce some heat into your aquarium environment.
Inline Pumps
On the other hand, inline pumps sit outside of the fish tank and are connected via inlet and outlet tubing that allows the pump to circulate the water and air from outside the tank.
They dissipate less heat into the water, but the tubes do tempt small children and animals – like my cat – to play with them. You may wish to opt for the submersible pump for this reason.
These pumps are often placed atop the aquarium to keep the lines moving smoothly.
Power Source
Another thing to keep in mind as you look for the right air pump for your tank is how the pumps are powered.
There are a few different options for this, but the most common are battery operated or standard electricity plugin operation models.
Plugin Vs Battery-Powered
If you live in an area where power outages don't occur terribly often, you're probably fine with using a standard plugin model air pump.
If, however, you live someplace where frequent storms knock out the power, you'll want to go with a battery-powered pump instead.
Author Note: Personally, I prefer models that use standard electricity plugins but have a battery backup for emergency situations. I rarely need the backup, but when I do, I'm quite thankful for that little battery-pack that keeps things running.
Position/Placement Style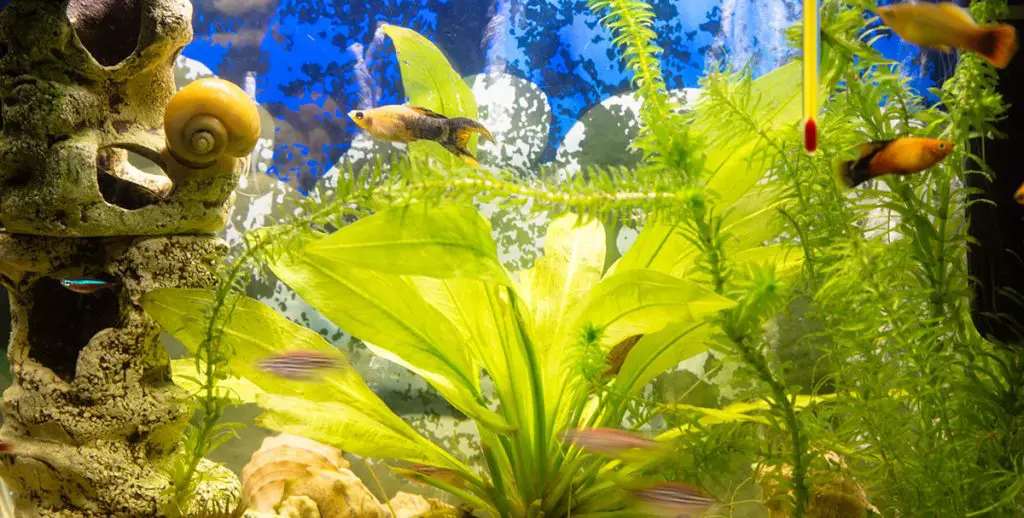 The aquarium air pumps, whether submersible or inline, use a variety of "attachment" and placement styles.
Some use rubber feet that protect the acrylic or glass surface of the aquarium, while others use suction cups to mount a small pump or secure a pump to whatever surface it is designed for.
If you have a preference – personally, I don't love suctions cups, for example – you may want to keep this in mind as you shop.
How Do You Set Up an Air Pump?
Most pumps are incredibly easy to install, but because each model works differently, the best advice I can give for setting up your air pump properly is suggesting you thoroughly read the instructions included with your new pump.
Most come with simple to follow, illustrated instructions that require anywhere from four to ten basic steps.
Reviews of the 6 Best Air Pumps for Aquariums
The air pumps listed below are the best of the best in the various most commonly needed categories of aquariums.
I found the best saltwater tank punk, quietest pump, small tank pump, and various others, in the hopes of meeting everyone's needs.
The Tetra Whisper is the perfect option for your 10-gallon aquarium. This little pump is incredibly efficient, mostly quiet, and works reliably for your smaller fish tank needs.
And it comes from a well-trusted brand you can be sure will live up to its reputation for high-quality.
The reliability of the Tetra Whisper is one of the main things people love. It works long hours for many years and keeps the bubbles flowing through the right air stones.
The Whisper uses a special dome shape and sound dampening chambers to reduce the turbulence which creates a smoother, quieter stream of air flowing through.
This is what drops the noise down to whisper volume at approximately only 40 decibels.
Here's the breakdown:
Tank size: 10 gallons or smaller
Submersible: Yes
Gallons Per Hour: 7.8 gallons per hour
Watts: Unknown
Interestingly enough, the Tetra Whisper comes with access to the Tetra My Aquarium App.
This app allows you to access the care of your aquarium through any Tetra product, including the Whisper.
The app allows you to set reminders for cleanings and other maintenance activities, as well as calculating for you if you need to add more water or change the water in the tank.
Overall, the Tetra Whisper for 10-gallon tanks is the most popular, most-trusted air pump on the market. The company's been around for 5+ decades, and we recommend this above all others for tanks this size.
>> Tap Here to Read More Reviews and See Today's Price on Amazon.com <<
Uniclife is a well-trusted brand in the fishkeeping industry – just check the reviews.
For this review, we're looking at thr 64 GPH aquarium air pump that comes with dual outlets. The pump works in both freshwater and saltwater aquariums from 10 to 100 gallons.
The Uniclife April Pump with Dual Outlets is a great choice for powering devices with a steady flow and output at 64 GPH.
The pump has adjustable flow via rotary knob for controlling the dual outputs.
Here's the breakdown:
Tank size: 10 to 100 gallons
Submersible: No
Gallons Per Hour: 64 gallons per hour
Watts: 4 watts
Power source: Standard electricity
The Uniclife pump is quiet operating and helps fully oxygenate your aquarium steadily and quietly.
The kit comes with 2 air stone discs for creating dense medium bubbles – just use the rotary knob to control the outputs for the desired flow rate in each.
Additionally, the kit includes 6.5 feet of airline tubing, 2 check valves, and 2 connectors.
>> Tap Here to Read More Reviews and See Today's Price on Amazon.com <<
From a company that's been around for more than 50 years – and the only brand name I remember from childhood – comes the Tetra Whisper 100 air pump.
This sucker is built to last and works for up to 100 gallons of fish tank water.
The quirky looking little air pump from Tetra uses a squatty, dome-shaped body to help reduce noise for a quieter running air pump for your aquarium while providing your tank with maximum air flow for aeration.
The dome-shaped chamber actually has sound dampening chambers to flatten the sound wave frequencies, which is why you probably won't hear this thing running most of the time.
Here's the breakdown:
Tank size: Up to 100 gallons
Submersible: Yes
Gallons Per Hour: 52.2 gallons per hour
Watts: 4.8 watts
Power source: Standard electricity
The Tetra Whisper 100 is a small, 1.7-pound model that functions quietly and efficiently, with an unobtrusive look.
The little domed pump nestles in nicely with most décor without distracting from surrounding plants while raising the oxygen levels in your tank.
Tetra has been around for a long time and is well-trusted in the industry for a reason. Their devices and equipment are built from quality materials that last for years to come, and the Whisper 100 is no exception.
This pump can be used in tanks as deep as 8-feet and comes with a limited lifetime warranty to guarantee the quality of the product.
>> Tap Here to Read More Reviews and See Today's Price on Amazon.com <<
If you're looking for an uber powerful pump that can run a multi-tank setup or a giant aquarium, you're looking for the HydroFarm AAPA45L Active Aqua Commercial air pump.
This monster has a whopping 6 outlets for use on up to 6 devices or tanks. The pump pushes through a maximum of 712.8 gallons of water per hour for a huge amount of air flow.
Now, when you look at this pump, you're not seeing a cutsie pump that the kids are going to mistake for a toy for the fishies to swim around with.
Instead, it has a bit of an industrial look to it – almost like an engine or tractor body like feel to it. But since it's a commercial level air pump, that's not terribly surprising.
It's designed specifically for use in running aquafarms – hydroponics – or multiple aquariums at once, so "prettiness" wasn't the foremost thought in the design.
Here's the breakdown:
Tank size: Up to 700 gallons
Submersible: No
Gallons Per Hour: 712.8 gallons per hour
Watts: 20 watts
Power source: Standard electricity
This pump uses an electrical magnetic air compression that's built into a high-quality aluminum alloy casing to allow for tons of real-life wear and tear that standard models can't handle.
The cylinder and piston will just about last for forever, and the outlets are made of high-quality copper with individually controllable air dividers.
The max output is 20-watts of power, which can pump through 45 liters per minute, with a maximum 45 decibels, which is just barely above whisper volume.
The multi-level muffler uses low power consumption and uses specially designed rubber components to keep steady air flow output and pressure that's easily adjustable.
This pump is perfect for your deep water applications, as well, as long as you install it and connect everything properly per instructions included in the manual.
The pump comes with a 1-year warranty from HydroFarms.
>> Tap Here to Read More Reviews and See Today's Price on Amazon.com <<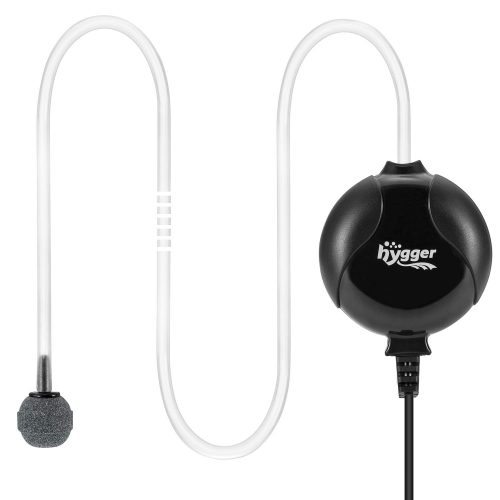 If you've got a tank that holds anything from 1 to 15 gallons of water, the Hygger Quiet Mini Air Pump is your best bet for a silent fish tank air pump that does all you're looking for this.
This tiny pump is incredibly quiet, super energy efficient at using only 1.5-watts of power, and provides plenty of clean, fresh oxygen for your small tank.
The pump uses a non-traditional pumping mechanism made from a thin piezoelectrical ceramic plate.
There's no motor or standard mechanism, which is why this pump is the quietest fish tank air pump on the market. It's great for bedrooms, office spaces, and other places where you need incredible quiet.
Here's the breakdown:
Tank size: 1-15 gallons
Submersible: No
Gallons Per Hour: 6.6
Watts: 1.5 watts
Power source: Standard electricity
The pump uses only 1.5-watts of power, meaning you won't drain the energy source, and it's a lightweight, super compact model measuring only 2.4 inches in diameter.
You place the inline air pump on the outside edge of the tank.
Since it's so small, and "clips" onto the side, you prevent issues with top-of-tank access – i.e. you don't have to remove the pump every time you remove the lid to clean the tank.
The air flow rate improves dramatically by the low power consumption pump, and the quiet operation will help you forget you're using a pump at all.
The water pump has a long service life, with a flow rate of 420 milliliters per minute – or 6.6 gallons per hour.
The air pump works for tanks of 1 to 15 gallons and small hydroponic systems.
The air pump from Hygger comes with the HG-811 air pump, power adapter, 3.6-feet of air tube, one 0.9-inch air stone, and double-sided sucker.
Plus, the user manual to help guide you through any warranty questions, setup needs, or maintenance issues.
Plus, the pump also comes with a 1-year limited manufacturer warranty.
>> Tap Here to Read More Reviews and See Today's Price on Amazon.com <<
If you're looking for the quietest air pump possible, the Mylivell Quietest Aquarium Air Pump Ultra Silent is your go-to.
This one is super quiet, energy efficient, and powerful enough to pump through enough gallons to keep your tank aerated and clean longer.
The Mylivell pump includes an air stone and silicone tubing for a full kit for keeping the air bubbles going in your tank.
It uses a thin, piezoelectric ceramic plate for near total silence, with no motor, no EMI, no shaft, and no other troublesome mechanisms that break down in the other air pumps out there.
Here's the breakdown:
Tank size: Up to 40 gallons
Submersible: No
Gallons Per Hour: 11 gallons per hour
Watts: 1.5-watts
Power source: Standard electricity
The ultra-silent pump gives a stable performance in smaller tanks up to 40-gallons and 39-inches deep.
The pump comes with a back sucker to drop back pressure, and an air stone that pumps loads of water through for great bubble coverage of the tank.
The pump has a long service life expectancy and is incredibly energy efficient for such power.
This is a great option for betta fish in particular, though it does work great in any tank up to 40-gallons in size.
>> Tap Here to Read More Reviews and See Today's Price on Amazon.com <<
Ways to Reduce Air Pump Noise for Sensitive Ears
There are a few different ways to reduce the noise created by louder aquarium air pumps. Here are our best quick tips for doing just that.
Add a Towel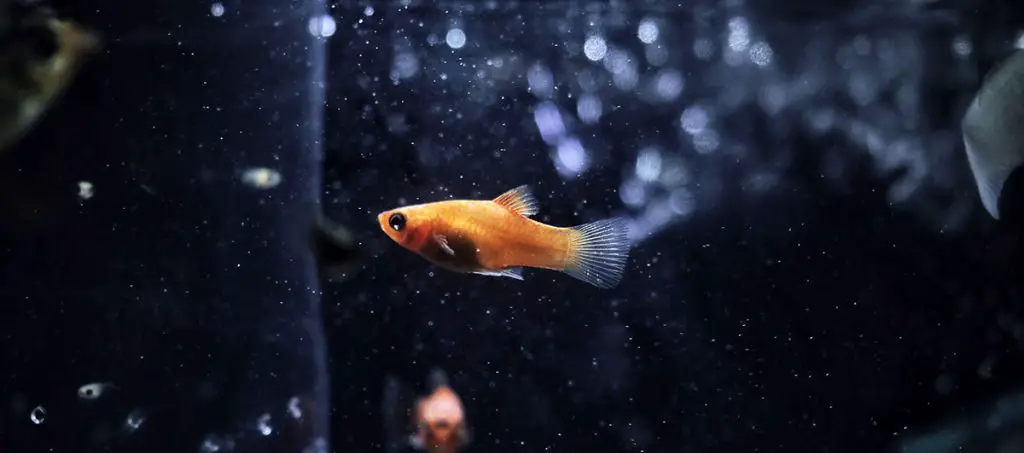 As mentioned above, placement of an air pump on a towel or other soft material may reduce the noise levels.
Be sure to check the pump regularly to make sure there's no chance of it overheating, though.
Clean the Air Stones Often
The more gunk any equipment gathers, the more noise it makes. Be sure to clean the air stones and submersible pumps often to avoid build-up that may increase volume levels.
Keep the Pump Higher than the Aquarium
Finally, the best way to keep the noise levels down is by keeping the pump on a higher level than the surface of the water.
If the pump uses a suction cup to "clip" to the side of the tank, be sure the pump itself is higher than the water level.
If it's an inline pump, be sure to keep it on top of the tank or on a shelf above the tank so that the tubes run downward rather than level with the water's surface.
Any Necessary Accessories for Your Air Pump Setup
Any of these devices may be used with your air pump or may complement the overall health and maintenance of your aquarium.
I'd recommend reading through each of the accessories to see which might best suit your aquarium situation.
Protein Skimmers
You may decide to grab a small protein skimmer.
These are used to remove organic compounds like food and waste particles your fish leave behind. If used properly, they can help keep your aquarium cleaner for longer, with less hefty maintenance.
These are primarily used in saltwater aquariums, but may be helpful for larger in-home aquariums that have a number of fish who – like my cat – are messy eaters.
Air Stones
Air stones – sometimes called aquarium bubblers – are pieces of aquarium furniture used to add bubbles to your tank.
They were originally porous stones or limewood, which gradually diffused air in the tank.
However, now we can purchase specific "powered" bubblers that can help eliminate noise, diffuse the air, and add limited filtration to our aquariums. All of these functions can improve the overall health and environment for your fish.
Air stones also can increase the beauty, fascination, and general attraction of your aquarium.
If you're anything like me, you love watching the fish swimming around, darting between rocks, and generally chilling.
But even more fun is the fish who watches the air bubbles like that little guy on Finding Nemo did so much.
Even if your fish isn't quite Bubbles level, all of you can still get a lot of enjoyment out of the added atmosphere.
Water Filters
Whether you've got deep tanks or shallow tanks, water filters can help keep things clean in there for your fish.
They can help keep the water and air in your tank cleaner and fresher for longer periods of time which both saves you on maintenance time, but gives your fish a better quality of life.
The Best Air Pumps on the Internet
While there are some other major contenders out there, like the Fluval Q1 and Q2, Ecoplus models, and Danner options, the pumps we've suggested are the top choices of the vast majority of users, as well as from our own experience.
We think they're the right picks for your needs, but we do always suggest doing a thorough read through of the current reviews from the other real-life users out there.