As a child, do you remember staring at the aquariums in doctors offices in awe? You thought this had to be the best fish tank in the world. Me, too. 
I still stare at doctor office aquariums in awe. The difference now is I don't have to beg my parents for a tank. Now I can create my own eye-catching fish tank set up at home!
In this article, I'll go over how to choose the best fish tank for your home and what you should look for, as well as share with you my top picks for the best fish tanks on the market right now. 
Best Fish Tank Quick-Find Table
Image
Product

Great, quiet filter

No need for aquarium mat

Easy to access and clean

Great, quiet filter

No need for aquarium mat

Easy to access and clean

VIEW LATEST PRICE

Scratch resistant glass

Artificial boxwood plant mat is nice

Simple design for easy cleaning

Scratch resistant glass

Artificial boxwood plant mat is nice

Simple design for easy cleaning

VIEW LATEST PRICE

Light and near-indestructible acrylic

Low maintenance with great filter

Amazing LED lighting

Light and near-indestructible acrylic

Low maintenance with great filter

Amazing LED lighting

VIEW LATEST PRICE

Sturdy 1/8" thick glass

Affordable small starter kit

Curved design allows for great view

Sturdy 1/8" thick glass

Affordable small starter kit

Curved design allows for great view

VIEW LATEST PRICE

Curved glass and hidden filter for sleek design

Feeding and checking water is easy

Blue and white LEDs

Curved glass and hidden filter for sleek design

Feeding and checking water is easy

Blue and white LEDs

VIEW LATEST PRICE
How to Choose the Best Fish Tank 
Setting up the best fish tank is more than plastic plants and wrecked pirate ships. The fish tank is where your fish will live, sleep, eat, and thrive. 
Here are some questions you should ask yourself before you go out and buy your new fish tank set up. 
Decide: What's Going in Your Fish Tank? 
Before you buy your fish tank set up, decide what you will put in your fish tank. Here are the questions you need to ask yourself.
Fish and Animals
First, what kind of creatures are you planning to house in the tank? Freshwater fish, saltwater fish, coral, shrimp, crabs, snails, or other invertebrates?
Will the critters you're keeping need a lid that secures tightly or is a simple cover acceptable? Some fish species are known to be jumpers while others are pretty chill.
How big are the creatures? How much space do the various species require? Some fish are great with smaller tanks while others require much larger aquariums than you might guess.
Be sure to investigate the size requirements and any special notes on aquarium styles needed for the fish you're planning to stock in your aquarium.
For you to create the best fish tank experience, you'll have to cater to the type of fish and live plants living in it.
Author note: The saltwater versus freshwater fish is a big question mark since saltwater is best kept in glass while freshwater is great in either glass or acrylic tanks.
How Many Fish?
Closely related is the question of how many fish you'll be keeping in your tank. Many species do best in schools of six or more fish, while other species do best as a solo act.
Before you make any kinds of purchases, be sure to know how many fish you're keeping together.
Live or Artificial Plants?
Are you planning to keep a planted tank or not? Will your fish do best with live plants or artificial plants? How many plants are you going to keep?
The type of plant isn't so necessary for determining the best fish tank for your situation, but having a large enough tank for growing plants is going to be critical.
Author note: In most cases, I recommend live plants for your aquarium, but they're not always the best choice for certain species.
Décor or No Décor?
Another question to ask yourself is how much and what types of decoration pieces you're planning to add to your aquarium.
Some fish do best with plenty of hiding spots like driftwood, overturned flowerpots, 3D backgrounds, caves, plants, or other items where they can avoid the spotlight.
But all of that takes up space. You need to figure out how much décor you're planning to use before buying a tank to make sure your scaley pals get the best fish tank possible with enough space.
Determine: What Kind of Aquarium Decor You Want
My favorite part about creating my home fish tank is designing it. There are so many options on the market right now for aquarium decor. This is where you get to do what you want. 
Aquarium decor ideas include decor made from polyresin. Polyresin is a plastic that is easy to mold.
While visiting a pet store, the fish tank decorations you see on the shelves, the ones like driftwood and ship models, are usually made of polyresin. 
We can't forget about the well-known aquarium gravel. Gravel is one of the substrates that people use for their swimming friends. Sand and crushed coral are two other popular choices.
Here's our list of the best substrates for planted tanks.
Top Tip: If you have a fish who likes to burrow, use a sand substrate in your fish tank. 
Determine: Where to Put Your Fish Tank 
Where do you plan to put your aquarium in your home? Find your spot and make sure it has an electrical outlet near it. You'll need it to hook up any aquarium filters or lighting.
Wherever you place your fish tank you want easy access to it for feeding your fish and maintaining your tank.
Choose: Small Fish Tank or Big Fish Tank
Time to find the best fish tank size to make your plans become reality. Here are my basic guidelines to help you pick the best size for your aquarium. 
Basic Guidelines for Finding the Best Fish Tank Size
Find the spot in your home where you will put your new fish tank set up. Take measurements of the area and mark them down. This will ensure that the tank will fit there without issue. 
Once you add substrate, plants, and aquarium decor, your tank will hold fewer gallons of water. As much as 15% of your water volume drops once you add any extras. 
If you buy a 10-gallon fish tank and add your substrates and decor, that 10-gallon could drop 15%, turning your 10-gallon tank into 8.5-gallons.
Top Tip: If you have a coldwater aquarium, you need 30 square feet for one adult fish.
Consideration: Construction and Durability of the Fish Tank 
Since your aquarium will be your fish's habitat, you want it to last. The best aquatic tank manufacturers construct the tanks we use at home from durable material. They all aren't your typical glass bowl we see in the movies. 
Fish tanks come in acrylic and glass, with each having their pros and cons. 
Acrylic Fish Tank Pros and Cons
| | |
| --- | --- |
| Pros | Cons |
| Lighter than a glass aquarium | Expensive |
| More available shape choices | Easily scratches |
| Harder to destroy | Loses clarity over time |
Glass Fish Tank Pros and Cons
| | |
| --- | --- |
| Pros | Cons |
| Affordable | Easy to shatter |
| Scratch resistant | Heavy |
| Clarity | Limited shape and size options |
Must-Have: An Awesome Fish Tank Filtration System
Your fish tank filtration system is what I like to call the "brains" of your tank.
You need a good filter if you want your fish to live. The filter keeps the water clean, removes any toxins, and ensures a healthy environment for your fish to swim in. 
You have plenty to choose from, too. From external mechanical filters to internal chemical filters, as well as biological filtration. 
Decision: Finding the Best Fish Tank Lighting and Temperature Control
There are fish that do well in warmer temperatures. These fish need a heater with their tank set up.
Coldwater fish will need a chiller for their aquarium set up. 
Author Note: The lights you use on your tank matter. Fluorescent lighting is a great choice and doesn't overheat your tank. A tank that is overheated can cause excessive algae growth. 
Types of Fish Tanks 
There are four main types of fish tank setups. The first two being the popular freshwater and saltwater fish tanks. The other two are the brackish and cold water tanks. 
Freshwater and Saltwater Fish Tanks
Beginners often go with a freshwater fish tank because they are generally easier to care for.
Products you need to set your aquarium up are readily available.
Freshwater tanks are a great choice if you want live plants, too. 
For saltwater tanks, you use corals and anemones instead of typical green plants.
You also need to add aquarium salt to saltwater tanks.
This is the route you want to go if you want to set up the best nano reef tank, a popular pick among saltwater enthusiasts. 
Brackish and Coldwater Fish Tanks
Brackish fish tanks water needs fall between wash freshwater and saltwater tanks need. Brackish fish species need a healthy mix between marine salt and fresh water in their tank. 
When setting up a fish tank for brackish fish, you can't add the marine salt straight to the tank like you would do with a saltwater tank. You have to mix the marine salt into the fresh water in a bucket and then pour it in the tank. 
Coldwater fish tanks are the best fish tanks for fish species like the Catalina goby. If you want a small fish tank, the Catalina goby do well in aquariums as small as 10-gallons.
Two neat additions to your coldwater tank can also be starfish and urchins.
All coldwater tanks need a chiller for the water.
How We Chose the Best Fish Tanks
As a pet owner, I want what's best for my pets, from my furry to my finned family members. That's why I didn't skimp in my search to find the best fish tank. 
I set out to find a tank that came with the important must-haves. This includes a good filter, sturdy design, heater, thermometer, and lighting. 
The substrate and decor for the fish tank is fish species specific, so I didn't focus on that aspect. My focus was on the "powerhouse" of the fish tank. My choice would have to be a durable tank that lasts. 
I took time to look at each choice's filter, judging it on the aquarium filter brand, size, settings, reputation, and noise. Some filters can be really noisy. There are some filters that can also have a current way too high for the fish in the tank. 
Another important factor in my choices is price. I need to stay within the budget I have set for my new aquarium set up.
Now, not every choice on my list is cost effective. Those fish tank are some of the best of the best and they are worth their price tag if you can afford it. 
I had over 20 on my list in the beginning!
It's tough to choose, which is actually why I decided to write this article…to help you out, since I spent HOURS finding the best one.
My top pick for best fish tank won me over though, and I've used or had close contact with all the others on this list.
Reviews of the Best Fish Tanks – Aquarium Buying Guide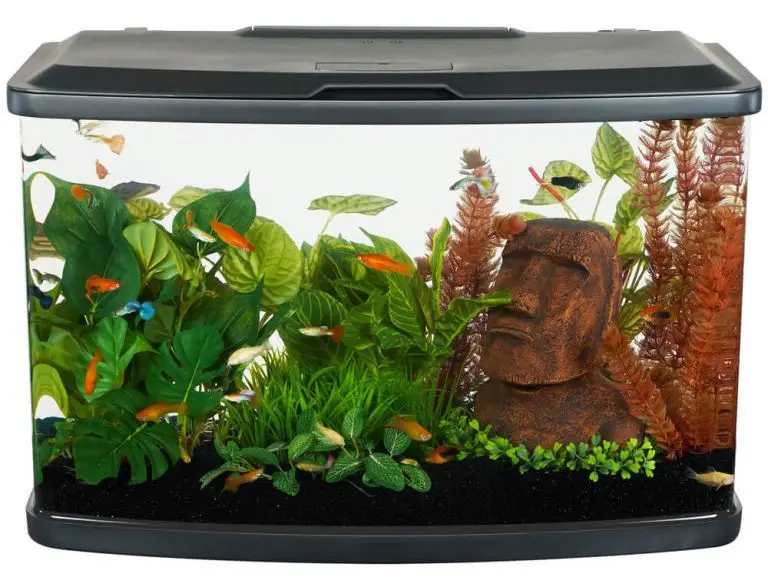 Fluval has created a fish tank that dreams are made of for beginners who are serious about taking care of their new fish.
On top of it coming with everything you need and being functional, the design is top notch. There's no surprise there as Fluval is a popular fish tank manufacturer. 
Includes:
16-gallon glass aquarium
Water conditioner and additive 
AquaClear 30 Filter 
100-Watt Heater
Thermometer 
Built-in LED lighting 
Dimensions: 24" wide x 15" deep x 16.75" tall with the filter attached 
Volume: 16 gallons
This aquarium kit comes with practically everything you need to create a healthy environment for your fish.
It includes a filter that hangs on the back, a heater, a hinged hood with a hinged feeding door, and LED lighting that is on a timer. 
One of the reasons this fish tank caught my eye is because of the AquaClear 30 filter that it comes with. This is a great filter that is quiet.
In addition to being quiet, it includes three filter settings, including a bio media filter, where the filter takes the bacteria that is produced in your fish tank and turns it into something good for your tank. 
The overall lighting of the Fluval Vista Aquarium Kit is also amazing. It's not too bright and showcases your aquarium well.
It's also on a timer, ensuring it doesn't provide your fish tank with too much lighting (you can also help this by adding some floating plants). 
While the lighting is great, it's close to the water, just so you know. This may cause condensation to form and eventually will ruin the lights, so if there's one thing to budget for, it's new lighting after awhile.
A heater is also included in their kit. It's an adjustable heater, giving you control over the temperature in your fish tank. 
What really made me pick this kit as the best fish tank is the sturdy and practical design.
The glass is thick and curved. A plastic bottom ensures your aquarium stays level. This is a great choice if you're looking for nice fish tanks. 
You also get to save a lot of time thanks to the design. There is a hinged lid and hinged feeding area. Making keeping your fish fed and the tank clean super easy.
The design doesn't include any hidden crevices that are difficult to clean. It's just a great, easy to maintain fish tank set up. 
>> Tap Here to Read More Reviews and See Today's Price on Amazon.com <<
Let me start by saying that Tetra has been around for a long time. They are known for manufacturing fish tank kits that are durable and affordable.
They don't skimp on the products they include in their aquarium kits, either. 
If you're looking for a fish tank that gives you room to wiggle compared to a nano tank, then a 20-gallon tank is a good place to start.
It's a great option for a school of small fish. You could even use it as a tank for a betta and add some great aquarium decor (though it may be too big for some betta).
The reason I chose it as the best 20-gallon tank for beginners is due to the fact that it comes with everything you need. Tetra provides you with some great products in this kit. 
Includes: 
20-Gallon Glass Fish Tank
Tetra Whisper 20 Filter
Tetra Mini UL Heater
Artificial Boxwood Plant Mat
4 Artificial Plants (I recommend changing these for live plants)
Dimensions: 24.2″ L x 12.4″ W x 16.7″ H
Volume: 20 gallons
Your Tetra 20-Gallon Complete Aquarium Kit includes a 20-gallon tank, 4-inch fish net, LED hood, digital thermometer, a dose of Tetra Safe Start and a Tetra 20 Whisper filter.
Additionally, ther kit includes a Tetra HT 20 heater, an AquaSafe and TetraMin sachet, and an artificial Boxwood plant mat and plants.
Within hours, you can have a fish tank environment ready for the fish you chose. I prefer live plants, but it can depend on the type of fish you have.
You will want to set up the fish tank before you go out and buy your fish.
You need to let the heater and filter cycle the water for a couple of hours prior to adding them. You'll also need to use the dose of Tetra Safe Start that comes with the kit if you're using tap water to fill your tank. 
As far as aquarium filters go, I am impressed by the one included with this kit. It's a Tetra 20 Whisper filter.
Honestly, the name explains it all. The filter is whisper quiet. It comes with a filter and filter bag that you will need to replace once a month. 
While quiet, the filter could use a hand in filtering a 20-gallon tank.
Thankfully the filter that comes with this tank has a spot cut out where you can add an additional filter. I would recommend checking into the AquaClear 30 filter. 
You need to rinse off anything you plan on putting in the tank prior to putting it in there. This includes any gravel and the artificial plants that come with the kit.
This helps cut down on the possible toxins you may be introducing to the fish tank. 
When it comes to aquariums, I like a water heater that is adjustable. Unfortunately, the one that comes in this kit is fixed.
While it does the job well and keeps the water warm, I still like to be in control of the temperature of the water.
Although, if you consider adding saltwater fish to this tank, the heater is perfect for that. 
The LED lighting is nice and illuminates the fish in the tank well. Honestly, the lighting highlights the entire tank well. You could even use it for live plants that require a lower light setting. 
Can you create a show stopping aquarium with the decor in this kit?
Not really. Only if you add a few more attractive pieces.
I'm not a fan of the few fake plants they included.
I will say that the artificial Boxwood plant mat that comes with this kit is nice. It's adds a look to the tank that is natural. 
>> Tap Here to Read More Reviews and See Today's Price on Amazon.com <<
The biOrb Classic 15 Aquarium is one of the best fish tank for betta fish.
It's a 5-gallon, round aquarium that comes with a lot of extras to get you started, including an impressive 5-stage filtration system. I wouldn't expect anything less from biOrb. 
This is also the first fish tank on my list made of acrylic, making this a great choice for a child's first fish tank.
It's round appearance actually reminds me of fair games. You know, the one where you toss a ball into a fish tank and win a goldfish. But, with all the must-haves for your fish tank. 
I don't recommend keeping the fair goldfish in a tank this small. Some of them can grow pretty large. They also produce a lot of waste, which will quickly make a small fish tank dirty.. This wouldn't be the best fish tank for a goldfish.
Includes:
4-Gallon Acrylic Aquarium 
Filter Cartridge
1-Pound of biOrb Ceramic Media 
Air Pump
Airstone
LED Lighting
Water Conditioner
Beneficial Bacteria Liquid
Dimensions: 13" x 13" x 13.2" inches 
Volume: 5 Gallons
The team at biOrb went above and beyond in this small fish tank kit by providing you with literally everything you need to start your fish off on the right fin.
This includes their unique 5-filter filtration system, a biOrb air pump, airstone, filter cartridge, water conditioner, and bacteria liquid that is beneficial to the tank's water.
Let's quickly talk about the biOrb's filtration system on this small fish tank.
It has 5-stages:
Oxygen stabilization,
Water stabilization,
Chemical,
Mechanical, and
Biological
If you want low maintenance, this unique system offers it. Every two weeks you change water and every six weeks you change the cartridge. 
One downfall to the filter is that in order for their filtration system to work properly you must use their ceramic gravel as a substrate.
There are a few cons to this.
First, biOrb's ceramic gravel is large and takes up a lot of space.
Then there's the fact that the products that biOrb sales are expensive. They are worth it, but follow the saying: "you get what you pay for". 
Due to its air pump, this tank is noisy if it's placed on a hard surface like a desktop or countertop. I recommend placing something soft underneath the aquarium. The tank vibrates loudly when the air pump is running. 
Overall, the biOrb Classic 15 Aquarium has everything you need to keep a betta fish or other small fish happy and thriving. It's size and acrylic fish tank make it the perfect fish tank to display practically anywhere in your home. 
>> Tap Here to Read More Reviews and See Today's Price on Amazon.com <<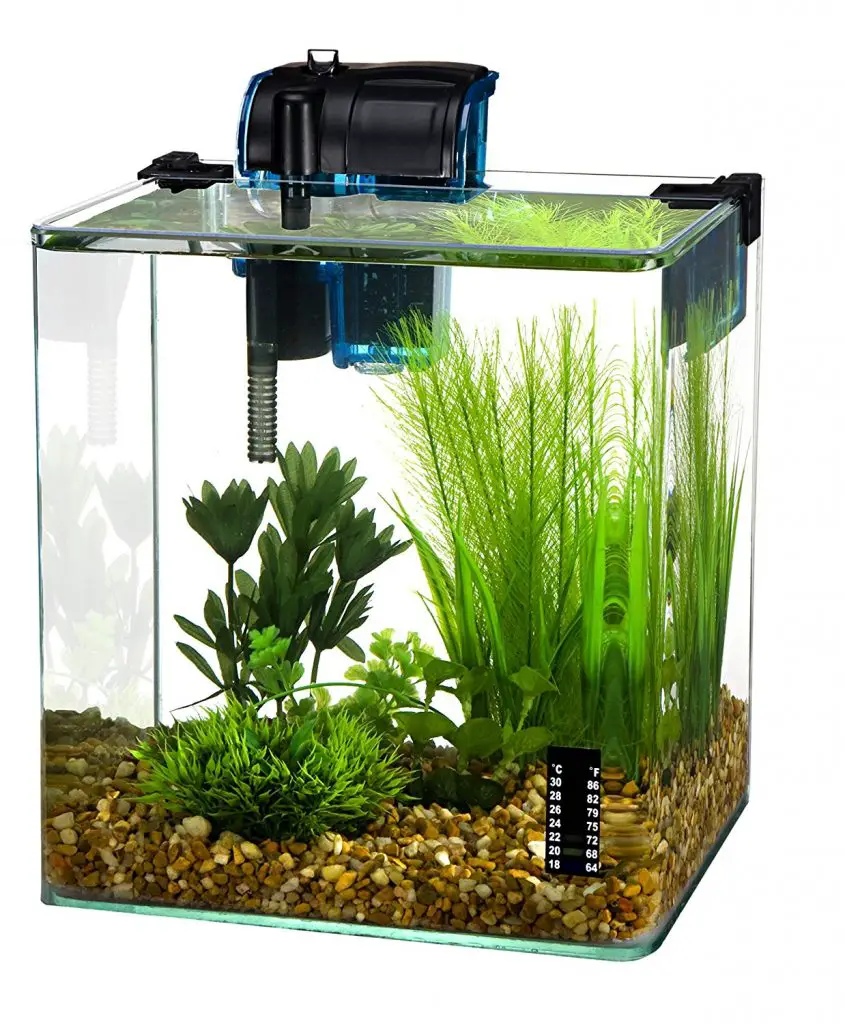 If you're looking for a nice fish tank that looks great while sticking to your budget, you don't have to look any further.
The Penn Plax Vertex Desktop Aquarium Kit is a small, 2.7-gallon, aquarium that is the perfect budget-friendly nano fish tank for any beginner. 
Includes:
2.7-Gallon Glass Tank
Hang-On Water Filter
Thermometer
Fish Net
Dimensions: 10" high x 8" wide x 9" long 
Volume: 2.7 gallons
The construction of this desktop fish tank is durable and looks nice, too. It has a frameless curved corner glass design, giving you the best view of inside your aquarium. It's made of ⅛" thick glass.
Penn Plax includes a hang-on adjustable water filter with this aquarium kit.
While it is an adjustable filter, the current can be too strong for some fish. You can easily solve that problem – just place a piece of sponge near the current. This will help slow the current coming from the filter down. 
Unfortunately, you won't get any LED lighting or a filter with this kit. That's why I chose it as the best nano fish tank on a budget.
With a lower price point, you'll have wiggle room for the must-haves not included. 
>> Tap Here to Read More Reviews and See Today's Price on Amazon.com <<
I had to add this 5-gallon aquarium kit from MarineLand. MarineLand is a name myself and others have put our trust in for years when it comes to aquarium needs.
They really did a job well done when it comes to adding a sleek design to a fish tank with this tank. 
MarineLand really tried hard to pull of one of the sleekest designs when it comes to fish tanks. They almost had it with the curved glass design.
Add that with the compartment that hides the filter and all the wires, it could've been a winner. 
Includes: 
5-Gallon Glass Fish Tank
MarineLand 3-stage hidden filtration system
Hinged LED lighting 
MarineLand Bio-Foam
Rite-Size Z Cartridge 
Dimensions: 11.8 x 11.6 x 17 inches
Volume: 5 Gallons 
But…the part that covers the wires isn't great.
On the back, there's a piece that attempts to keep the look of your aquarium very clean. It does this by hiding any wiring or tubing running to your aquarium. Which is usually visible as there isn't any way to conceal it. 
While the idea was right, the design wasn't. This area has a funny shape with small curves and crevices. This makes it almost impossible to add any extra tubing. Unless you cut an area out, even adding a bubbler is difficult. 
Cleaning the piece that covers the cords is also difficult. Debris often gets stuck in the crevices, making it harder to clean this part of the aquarium set up. 
Keeping the aquarium clean otherwise is a breeze.
This is a place where the aquarium shines, in it's curved sides. Since it doesn't have square corners, you won't have to deal with what gets stuck between any silicone or edges. 
Feeding and maintaining the water quality is easy also thanks to the design. There's a sliding glass canopy that comes with the kit. It functions well and slides easily, giving you ample access to feed your fish and check and treat the water. 
I will also say that the LED lighting that comes with the kit is impressive.
You can choose between blue or white lighting. Blue lighting gives your fish nighttime lighting, while white lighting gives them the daytime effect. 
This is a pricier option. But, I honestly believe that for . what you get with the kit, it's worth it. MarineLand doesn't skimp on what they offer.
>> Tap Here to Read More Reviews and See Today's Price on Amazon.com <<
This is incredibly unique, and requires a bit of a budget. Of course there are always DIY coffee table aquarium projects, but if you've got the money and desire, check this one out!
If it does happen to be in your budget and you want to add some real unique style to your living room, here it is.
With the bells, whistles, and modern appeal.
Midwest gives us a show stopper with their Tropical AquaTable. It's a 28-gallon aquarium that you can use as a coffee table. The tank itself is made of acrylic, while the top is made of sturdy, scratch resistant glass. 
While the glass won't scratch and seems sturdy, it can still easily shatter if there's any rough housing close by. This probably isn't the best option to have around unsupervised children or curious cats. 
It's 28 gallons, so it isn't huge. It's actually on the smaller side of what your average fish tanks for sale as a table setup is. Many range over 100-gallons. You could even use it in a smaller living room setting.
Combining the size of the aquarium and extra features built-in the tank, this is the best coffee table fish tank for a beginner. The design, size, and setup are easy to understand. The size isn't too overwhelming. 
If this is your first rodeo with anything larger than a nano fish tank (any tank roughly 10 gallons and under), and you want something bigger – reconsider.
This fish tank is the perfect opportunity for you to get your fins wet in setting up and maintaining a larger tank. 
Checking the water levels and feeding your fish is super easy. There are many easy-to-open feeding slots placed conveniently around the AquaTable. 
By adding LED lighting under the gravel in the aquarium, they really make the tank pop. The lights give you a crystal clear view of every inch of the tank. It even gives your fish and decor a really nice glow. 
They even made it easy to replace the bulbs under the gravel. They added an easy to get to slide out compartment under the table. It gives you easy access to the bulbs. 
So, what all do you get with an aquarium with this kind of price tag?
Included is the 28-gallon coffee tank aquarium, a filter, one plant, blue glass gravel, and LED lighting.
That may be disappointing if you want more without buying extra pieces. While I'm sure the construction costs more than a 10-gallon desktop tank, I feel like there should just be more included. 
What comes with the kit can definitely get you started. But, I have a more vivid idea when it comes to the possibilities of an aquarium used as a coffee table.
If it's a focal point in one of my homes living spaces, I feel like it should be a real shower stopper. 
>> Tap Here to Read More Reviews and See Today's Price on Amazon.com <<
FAQs About Finding the Best Fish Tanks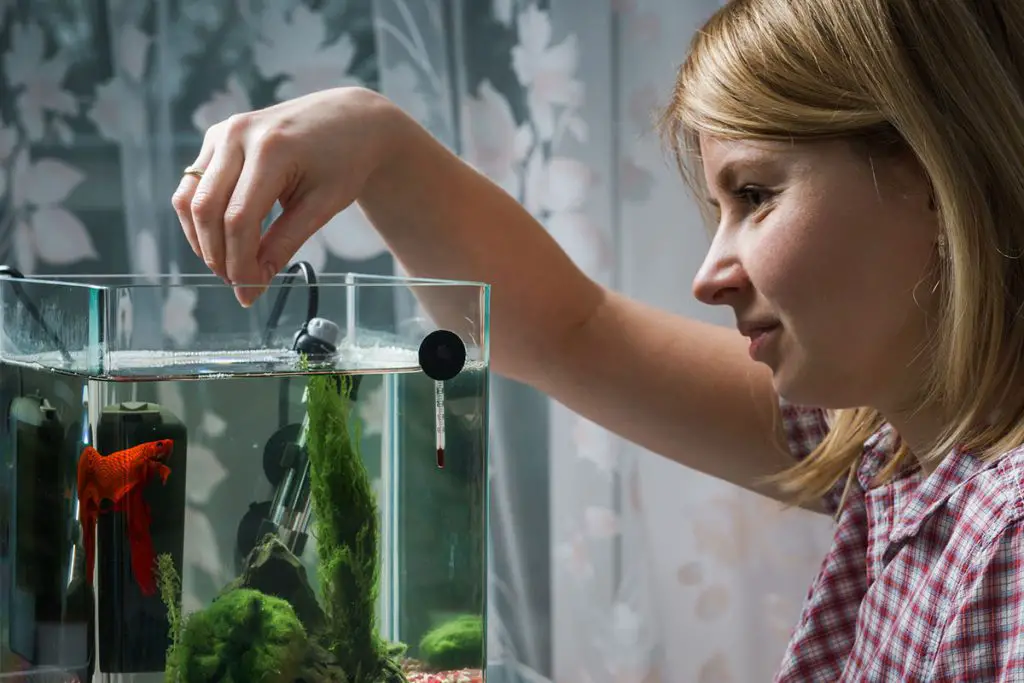 How many fish can I put in my fish tank? 
This depends on how big your fish tank is. That's why it's important to figure out what you're going to put in there before you decide on a size.
The general guides that most usually go by leave room for little error, which can lead to overcrowding if you're a beginner.
If you want to be on the safe side, I'd say at least give at least every adult fish 24 square inches. 
What can I do to keep my fish tank clean? 
Proper planning and timing means everything when it comes to fish tank cleanliness. If you want to keep your fish tank clean, plan ahead. Invest in a great filtration system and avoid overcrowding your tank. 
Follow any maintenance or cleaning recommended by the fish tank manufacturer. When it comes to keeping your tank clean and fish healthy, staying on schedule is a must.
A tank can quickly get dirty if maintenance and cleaning isn't done on time.