Whether you need the cheap 10 gallon aquariums or a 10 gallon long-length fish tank, you'll find loads of options available online.
But the question is, which one is the best 10 gallon aquariums for a beginner aquarist, and how do you decide? Should you go with Tetra because you know the name?
I've put together a fairly thorough information sheet with reviews on the best 10 gallon aquariums available on the market, just for you.
Best 10 Gallon Aquarium Quick-Find Table
Image
Product

Kit comes with pretty much everything you need to start

Easy to set up kit

High-quality product for reasonable price

Kit comes with pretty much everything you need to start

Easy to set up kit

High-quality product for reasonable price

VIEW LATEST PRICE

Intriguing design

Quality manufacture

Distinctly different from nearly everything else

Intriguing design

Quality manufacture

Distinctly different from nearly everything else

VIEW LATEST PRICE

Stunning views

Easy to install and use

Clean, clear glass of high-quality

Stunning views

Easy to install and use

Clean, clear glass of high-quality

VIEW LATEST PRICE

BEST BUILT-IN LIGHTING DESIGN

BEST BUILT-IN LIGHTING DESIGN

Beautiful lighting design

Solidly built

Good for freshwater or saltwater use

Beautiful lighting design

Solidly built

Good for freshwater or saltwater use

VIEW LATEST PRICE
Important 10 gallon aquariums Equipment to Obtain
There are two primary types of aquariums you can set up with a 10 gallon fish tank – apart from reptiles, land crabs, et cetera – and those are a freshwater tank or a saltwater tank.
The two different types require much of the same equipment, but there are a few differences.
Filter: Both
No matter how great your tap water tastes to you, your fish needs a purified tank – which means filters.
Saltwater and freshwater fish alike will have health issues arise if they live in a tank filled with water that has the wrong pH, chemicals, et cetera.
Author Note: Just like we need clean, fresh air to breathe for a long healthy life, your fish needs absolutely pure water for his.
Check out our reviews of the best aquarium filters here.
Heater: Saltwater Yes, Freshwater Possibly
The type of fish you're keeping will determine whether or not you need a heater. Any tropical fish will need heated water – always verify their needed temperature – and many freshwater non-tropical fish also need warmer water.
If you don't already have specific fish in mind and do not want to deal with an aquarium heater, please be sure to look into cold water fish and see which ones can live happily without heated water. 
Check out our reviews of the best aquarium heaters here.
Lights: Both
Both fish and plants need light to thrive, much like humans and other animals do.
It's important to choose the right lights, though, based on the types of plants and fish you have in your new aquarium.
Author Note: I always recommend LED aquarium kit lighting at this stage, as they provide the lowest heat, broadest spectrum lighting, and usually are programmable and capable of being scheduled for a natural flow of biorhythmic lighting.
Check out our reviews of the best LED lighting systems here.
Substrate: Most
There are a few fish and plants out there who don't need or want substrate – that is, sand or gravel of some kind – but the vast majority of aquariums are better off with some kind.
Be sure to read some reviews and choose clean, healthy options that will be easy to clean and keep healthy for your pets.
Check out our reviews of the best planted tank substrate here.
Hood: Both
There are some fish that jump – Firefish and bettas, for example – and some who don't. But whether you've got bettas wanting to duke it out or a goldfish in quarantine who's anxious to be free, you'll want a hood for your aquarium.
But even if you don't have jumping fish species, you'll still want a hood. These can help give you a place to affix your lighting and other equipment, especially in small spaces.
Or, if you're like me, you want to keep the cat out.
Protein Skimmer: Saltwater
If you're setting up a saltwater tank, you'll also need a protein skimmer. They come designed for different sizes, so be sure to find the right one for your 10 gallon tank.
Check out our reviews of the best protein skimmers here.
Shelter: Most
Most fish need some kind of shelter. This can be in the form of a live rock, 3D background, or decorations.
Sea Salt Mix: Saltwater
Since you're not running out to the Gulf coast to grab some sea water, you need to have the right salt mix for your aquarium.
Air Stone: Both
Not every single fish tank needs an air stone, but these devices help aerate the water, help clean the water a bit, and generally add some visual appeal.
Check out our reviews of the best air pumps here.
Test Kits & Thermometers: Both
Because it's important to regulate things like pH, salinity, and temperature, it's important to have the right testing equipment on hand. Be sure to grab a thermometer, and some testing kits for your specific aquarium setup.
pH
Nitrites
Nitrates
Ammonia
Phosphates
Check out our guide on cleaning your fish tank here, where we discuss our favorite testing kits.
Decorations: Both
Of course, the main reason most of us aquarists keep aquariums is because we love the look of the tank. This pleasing aesthetic results from choosing the right fish, the right tank, the right cabinet or stand, and the right decorations.
Top Tip: Remember to make sure at least some of them provide your fish with hidey holes.
Fish Net: Both
Finally, you're going to need a net. Those semi-annual deep cleaning sessions along with introducing new fish to the aquarium environment simply require a net. Be sure to get one large enough for your largest fish.
Precautions About 10 Gallon Aquariums
It's a common practice to permanently home fish in the wrong size fish tank.
Before you purchase a 10 gallon aquarium – or any fish tank, for that matter – make sure you verify the gallon-size is appropriate for the fish or other critters living in the tank.
Author Note: Small tanks are convenient and pretty, but the wrong size can prematurely end your fish's life or at least make him miserable.
How to Choose the Best 10 gallon aquariums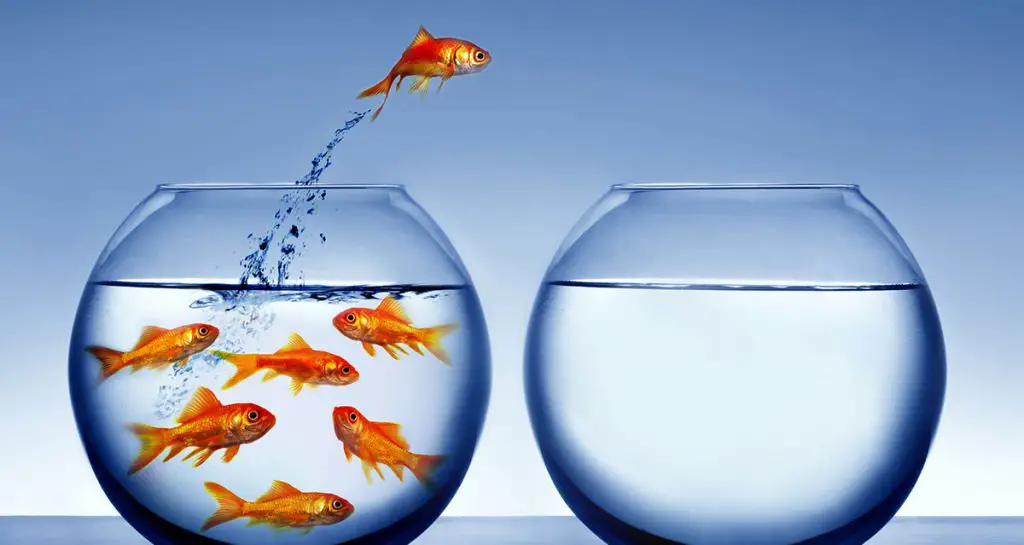 As you start the process of shopping, you'll want to keep these things in mind.
The Right Size
Again, for the sake of your fish and critters, I would like to reiterate that verifying a 10 gallon aquarium is the appropriate size. If you discover that you need a 20-gallon tank or other size, our other reviews should cover you. 
10 gallon aquariums – Fits Your Budget
While the aquarium itself may not be that pricey, you should keep in mind the overall cost of your setup.
Since you'll need things like a heater, a filtration system, a hood, et cetera, you'll want to calculate these costs together for your overall budget.
I'd also like to note that for many beginner aquariums, there are kits that include several of the components you need in a single price.
This may or may not drop your costs, depending on whether or not the kit is right for your setup. I would highly recommend reviewing them, though, to see if they do.
Types Fish You Stock in your 10 gallon aquariums
There are a lot of cool aquariums out there. Some are square cubes, other long and short. Some are even tall and tubular.
But the cool factor doesn't mean it will suit the type of fish keeping you plan on. Be sure you choose an aquarium shape and design that suits first the fish you keep.
Aesthetics of the Design of 10 gallon aquariums
If you're planning to stock fish that handle unusual shapes or designs well, you have a bit of freedom in which options you can choose. This is where those aesthetics come in.
The Space They Take Up
If you live in a small apartment, a 10 gallon tank is a great size. However, since not all tanks are made the same, you will still need to consider the space they take up.
Some are perfect for a dresser top while others need to be placed on a solid counter or stand.
Top Tip: Be sure that the aquarium you select fits into your space conveniently where you'll easily be able to access equipment and hatches.
Your Level of Experience
While some of the coolest modern 10 gallon fish tanks are pretty awesome, a few of them may well be more practically designed for someone with a bit of experience as an aquarist.
Be sure to read the in-depth reviews of real-life users to better understand if the given aquarium is suitable to your experience level.
Reviews of the Best 10 Gallon Aquariums
The 10 gallon aquariums listed below are the absolute best, easily accessible aquariums around. They're high-quality, easy to use, and many of them come with at least a minimal amount of equipment for easier set up.
I looked for all the things I would need in a 10 gallon tank and applied those thoughts to my research as I reviewed each aquarium individually.
Eliminating poorly designed, badly rated, or non-distinct aquariums and kits that wouldn't do much for your fish, I created this list based on real-life reviews, in-depth study, and personal knowledge and experience.
The Aqueon Fish Aquarium Starter Kit is pretty much the most complete kit on the market. It's a 10 gallon fish tank with filter and heater, hood, light, water conditioner, and more.
It's got everything and it's made from high-quality glass and other materials to help it last and last.
The kit comes with a built-in LED lighting system that can simulate daylight. It also comes with a tank filter with a flashing red-light indicator when it needs to have the filter cartridge changed.
Here's the breakdown:
Dimensions: 20.2" L x 10.5" D x 13.3" H
Weight: 17.6 pounds
Materials: Glass
Lighting: LED lighting
Included: Tank, low-profile hood, lighting, filter with medium cartridge, preset heater, premium fish food, water conditioner, stick-on thermometer, fish net
What We Loved
As mentioned before, the kit is just about as complete a kit as you'll get in a 10 gallon starter kit.
It has a heater, a filter and filter media, an LED kit that simulate daylight, a filter light that indicates the media needs changing, and the whole thing is easy to set up.
It's high quality, basic, affordable, and leaves you wondering why you would need any other tank.
Negatives of the Aqueon Fish Aquarium Starter Kit
There's really only issue I found in my own reviewing of this kit and the reading of the online reviews.
That is that the heater isn't adjustable.
This unfortunately means the kit may not be suitable for some of the best fish. The pre-set temperature is at 75 to 78 degrees.
For many fish – like cichlids – this is right in the sweet spot in water temperatures. But for others – think Danios and goldfish – this will be too hot.
Verify the temperature of water your fish needs before considering this aquarium kit, or simply do not use it if your home is the right temperature.
Our Verdict on the Aqueon Fish Aquarium Starter Kit
If you have tropical fish who love a warm fish tank and want to get everything you need to start in one place, the Aqueon Fish Aquarium Starter Kit is your go-to.
This comes with just about everything you need and is easy for anyone to set up.
If you like the kit and don't plan to use the heater or expect to replace it with a different one, you can get this kit for your cold-water fish as well, and have nearly the whole setup.
Either way, it's probably the best started kit on the market.
>> Tap Here to Read More Reviews and See Today's Price on Amazon.com <<
The Fluval 10 gallon tank is, admittedly, technically not a 10 gallon aquarium. It's only 9-gallons.
But if you're able to shave a gallon off, you're looking at a great option in unique aquarium design in the Fluval Flex Aquarium.
The unique shape draws the eye while the solid design protects your fish.
Personally, I love the curve on this aquarium. It keeps me mesmerized for hours, just watching the fish swim around the curved edges.
Of course, the quality of manufacture is also great, as is the stellar, remote-controlled lights that come included.
Here's the breakdown:
Dimensions: 13.2" H x 13.8" W x 12.8" D
Weight: 11.1 pounds
Materials: Glass
Lighting: LED lighting
Included: 3-stage filtration, lights, remote control, built-in hood
What We Loved
There are several things that make this a truly unique and beautiful aquarium. First, that convex shape that gives you a much wider, clear view of your fish as they swim by.
The shape itself rather magnifies the fish, which makes it all the easier to enjoy them.
Secondly, the filter that comes with this is better than the average kit filter. It's a 3-stage filter that mechanical, biological, and chemical media to clean the aquarium's water thoroughly.
Thirdly, the kit comes with some powerful aquarium lights. The efficient LEDs allow for interesting fading effects, white light, multicolor light, and more, and comes with a remote control.
Fourth, the aquarium uses a unique honeycomb pattern to hide the waterline, increasing the aesthetics all the more.
What we Didn't Love
There are really only two negatives I can find with the Fluval Flex. The first is that it's only 9-gallons. That's pretty small for most fish.
The second is the price. It's not ridiculous by far, but it is heftier in price than most of the other aquariums of this size.
If, however, you really love the convex curve and great lighting system like I do, though, the kit is well worth the extra cost.
Our Verdict on the Hagen HG Fluval Flex Aquarium
Overall, the Fluval Flex is one of the most fun and unique and one of the best 10 gallon fish tank kit options I've seen.
The unique design makes it great for viewing the fish.
The honeycomb patterns help hide some of the ugliness that can associate with aquarium equipment.
The LED light kit is rather impressive.
The filtration is also pretty great.
If you can handle a 9-gallon instead of a 10 gallon and are willing to pay a little more for the extra features, you're likely to love this one.
>> Tap Here to Read More Reviews and See Today's Price on Amazon.com <<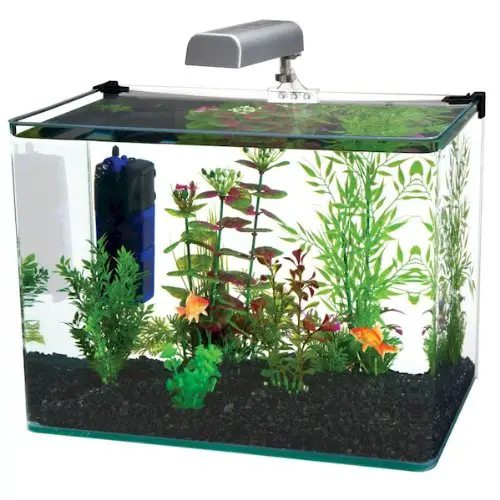 For a truly beautiful view of your fish, the Penn Plax Curved Corner Glass Aquarium Kit is the top of the line in non-custom tanks.
These unique 10 gallon fish tanks use a curved front without seams for a completely unobstructed view of the aquarium.
The simple, sleek design on this 10 gallon glass aquarium makes it perfect for just about space.
It blends in with anything but provides you and your family with some of the clearest views you could ever hope for in an aquarium.
Here's the breakdown:
Dimensions: 17.75″ L x 11.75″ W x 12.63″ H
Weight: 47.5 pounds
Materials: Glass
Lighting: LED lighting
Included: Internal filter, lamp, mat, lid
What We Loved
First off, the unique design on this aquarium offers an incredible view of your fish. And since that's a huge reason why you keep an aquarium, that's truly a huge positive for this fish tank.
The bent, seamless and frameless glass design on the front is truly unique and beautiful.
Next, the various equipment pieces that come with it are generally pretty great. The filter is super quiet, the mat helps to protect surfaces beneath the aquarium as well as preventing it from sliding.
It also comes with a hinge-style lid, which is great for easy access into the aquarium for feedings, spot cleaning, et cetera.
What We Didn't Love
And while we love this aquarium, there are a few downsides.
First off, for a starter kit, it doesn't come with a lot of equipment. That means beginner aquarists still have to find the other equipment they need to get set up.
Secondly, the lights on this kit only turn off when they're unplugged. I'm not in love with the lack of switch.
Third, you cannot open the lid without removing the light. Generally, this isn't an issue, but it can be a bit of a hassle when it comes to feeding time.
Finally, if you're in a tight space, you won't love that the light adds an additional 4-inches of height to your aquarium.
Our Verdict on the Penn Plax Curved Corner Glass Aquarium Kit
The construction is solid, the dimensions logical, and the quiet flow filter are all a good start for this cool 10 gallon fish tank, but the view is what this one is worth oohing and awing over.
The filter's great, the mat reduces stress on uneven surfaces, and the hinged lid makes it super easy to use for feedings.
Despite the few limitations on the Penn Plax Curved Corner Glass Tank Kit, this truly is the best simple starter kit around.
>> Tap Here to Read More Reviews and See Today's Price on Amazon.com <<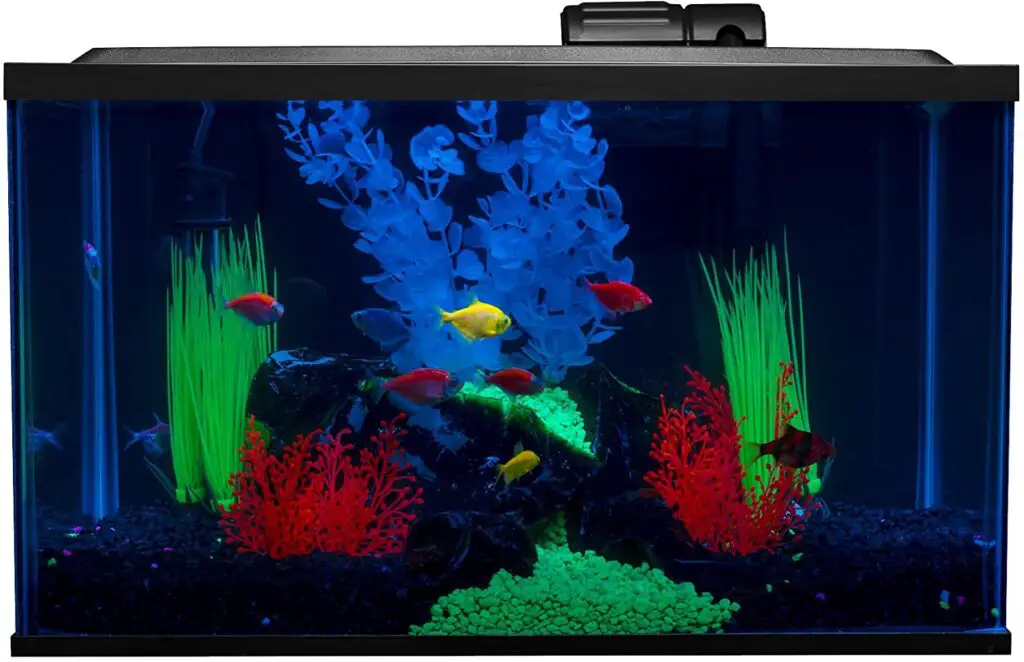 The GloFish Aquarium Kit is a fairly complete 10 gallon fish tank for practically any beginner getting set up – or someone looking to establish a new micro nano tank, even a reef tank.
The kit includes the majority of your essentials to get things going, including a quality Tetra brand Whisper internal filter and a full LED lighting system.
Just add your own GloFish brand touches for the complete glowing setup – or design your own look with different brand products for the right vibe for your tank.
Here's the breakdown:
Dimensions: 23.69 x 13.44 x 19.88 inches
Weight: 16 pounds
Materials: Glass
Lighting: LED lighting
Included: Tank, LED lighting system, internal filter, water conditioner, food sample, set up guide
What We Loved About the GloFish Aquarium Kit
First off, we love that the kit is pretty much complete as is. You'll need to add a heater and that's about it.
The LED lighting system is pretty solid, too, which is really great, especially for beginners.
The unique blend of white and blue LED lights is perfect for use with GloFish fluorescent species in particular – or brightly colored tropical fish.
The Tetra Whisper internal filter is also a huge plus in our books. The brand is about as trusted as it gets and the Whisper is well-known for being a quiet but powerful filtration system in whatever iteration you have.
Negatives of the GloFish Aquarium Kit
The only real negatives I can find for the kit is that it doesn't come with a heater. Since those are pretty easy to come by, that's not really much of a downside.
Our Verdict on the GloFish Aquarium Kit
For a solid, beautiful 10 gallon aquarium experience in a single kit, the GloFish Aquarium Kit is one of the best options you'll find. The kit is designed specifically for use with GloFish fluorescent fish, but it great for any kind.
The kit is also almost complete (minus heater), so it's an easy purchase and setup. That makes it a solid win in our books.
>> Tap Here to Read More Reviews and See Today's Price on Amazon.com <<
10 Gallon Fish Tank Set Up
Now that you've chosen your 10 gallon fish tank, you're ready to set it up.
First, gather together all of your equipment, decorations, kits, and your fish net.
Next, give that aquarium a deep clean. Even if you just purchased it and it looks spotless, there's likely some residue of chemicals from the packaging or general cleaning that you don't want in there with your fish.
Third, add in the gravel, river rocks, or other substrate you've chosen. Be sure these options are clean, non-naturally sourced options, unless you've been able to do an absolute sterilization of them.
Rocks you find outdoors can carry diseases, parasites, and harmful bacteria you can't see. Be sure to rinse off the gravel and sand and rocks before placing it.
And since some fish like to eat gravel, be sure to not to use small gravel the fish can choke on.
Add live plants and decorations to the aquarium at this stage. Position them, view them from the typical angle from which you'll be observing the aquarium, and make any adjustments as needed.
Next, fill your tank with purified water. Be sure to follow all instructions on how to filter the water, et cetera.
Position lighting, pumps, air stones, et cetera at this stage – make accommodations for hood-based equipment – and turn on everything to verify it's working.
Now, measure the temperature of the water and determine when the fish can be added into the tank.
There are, of course, other things to consider before introducing your fish into the aquarium, but the wrong temperature would be a bad start, no matter how well you follow the rest of the guidelines.
Once the water is ready, introduce your fish to the new home and put the hood on top of the tank.
Best Fish for 10 Gallon Aquariums
One of the main things about 10 gallon aquariums is that they are too small for many species of fish. It's important to check into species before purchasing them for your 10 gallon tank.
Some of the best species for your small fish tank include the following.
Celestial Pearl Danios
These peaceful little fish do well in 10-gallon tanks, since they only grow up to 1 inch and don't require as much swimming room as many other species.
Golden Dwarf Barbs
The Golden Dwarf Barb is a less commonly known fish, but they're a great choice for 10 gallon aquariums.
The fish grow to 1.5 inches long and come in vibrant yellow and black coloring.
Neon Tetras
One of my favorite species for a small aquarium is the neon tetra.
They are one of the most popular small tank fish for a good reason, too. Beautiful coloring, sparkling personality, and so much fun to watch!
Pygmy Corydoras
A small bottom feeder for a small tank is the pygmy corydora. These little guys work well in a community tank of this size, since they help clean things up.
They are peaceful and chill fish, though, so they can only be stocked with other peaceful, quiet fish.
Guppies
Guppies are another super popular small fish that does great in smaller fish tanks.
They're peppy, colorful, and fun to watch. They're peaceful and fun – and do best in schools of 5 to 10 guppies.